ABARES' Australian Crop Report
Sep 11, 4:43 pm
|
Wheat
|
Share this:
ABARES released its September crop report, and cut its wheat harvest forecast by a bit more than expected. Australian wheat production is now pegged by ABARES at 21.6 MMTs, vs. 24.0 in March and vs. the USDA's 23.5.
  Major downgrades are noted in Western Australia, New South Wales and Queensland, where dryness is most severe. ABARES update today suggests Aussie wheat exports will be no better than 17.0-17.5 MMTs, vs. the USDA's projected 19 MMTs, and already Australia's cash market is working to push market share to the Black Sea and US. High quality wheat in W. Australia this evening is offered at $245/MT, vs. US HRW and Black Sea wheat at $185-195/MT, and while Aussie wheat typically holds a modest premium to other origins, the current $50-60/MT is historically high.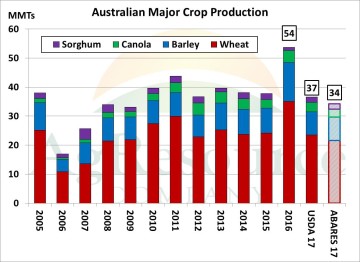 And of course it's not just wheat that's being affected by severe dryness. ABARES also made noticeable cuts to its barley, canola and sorghum production estimates. Australian canola production this morning was pegged at 2.75 MMTs, vs. 4.1 MMTs last year and the USDA's August estimate of 3.2 MMTs. These are not large numbers, but ARC does mention that nearly the entirety of Australia's canola crop is exported, and Aussie canola exports in 17/18 are now projected at 2.0 MMTs, down 1.2 MMTs from last year, which along with Canada's crop loss will keep the global canola balance sheet rather tight. Australian barley exports will be down 3.5-4.0 MMTs, or 40%, from last year. And, importantly, the forecast in Australia is completely void of rainfall of any kind through the next two weeks despite a continued cooling of the equatorial Pacific.
Two-week cumulative precip is at left, and should the forecast verify Sep 1-25 rainfall will rest at just 30-50% of normal in W Australia and a meager 15-40% of normal in New South Wales & Queensland. Without a fairly rapid shift to improved (and sustained) rainfall, ARC expects Australian yield forecasts to decline further, with 2012 pegged as an analog year. Assuming dryness persists into early October, Australian wheat production will fall to closer to 19.0-19.5 MMTs, further limiting exports. Barley production may be cut another 0.5-0.8 MMTs, and canola production could fall to 2.4-2.5 MMTs, a 7-year low. Much better weather is needed, and US wheat exports beyond the next 2-3 months are expected to be more robust.