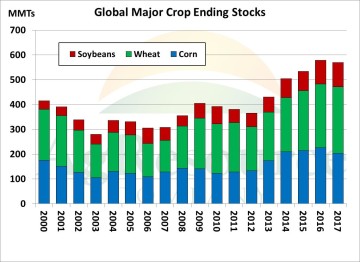 World 2017/18 stocks of wheat/soybeans are record large and up a combined 13 MMTs, while world corn stocks are down 23 MMTs to 204 MMTs! The net result is that Global Major World Crop ending stocks are down 10 MMTs, the first stock fall in 4 years! From 2012 into 2016, world major grain stocks grew just over 50% as world grain production was nearly double the growth in world demand. Somehow, world grain consumption has to catch up with production with most private estimates pegging China's corn stocks some 75-100 MMTs above the WASDE forecast of 79 MMTs.
  The graphic of global major crop ending stocks reflects that there is an abundance of grain in the world, and that the market has to slow the growth of future world grain plantings. 
  Moreover, world grain demand will have to play catch up with rising global crop yields. This demand growth phase of the ag markets will take time – likely years – before there is balance between supply and demand. Time and low prices are needed for grain demand to grow.
Corn:
Another NASS report and another upward revision to US ear weight, which is impressive given severe regional dryness (and drought) during July & August.  NASS's 10-state ear weight this month is pegged at .354 pounds/ear, up slightly from October and just 1.4% shy of last year's all-time record.
  The US corn yield is now estimated at 175.4 Bu/Acre, some 5 Bu above the 30-year linear trend. ARC notes that yield in Jan is often little changed from Nov, and the issue ahead is what to do with the US new crop corn balance sheet? Without regional heat and dryness, a yield of 177-180 BPA is possible (the Feb Outlook Conference will start with a yield of 172-173), and amid rising carryover stocks, there's simply too much supply. A South American drought or a severe cut in US acreage is needed to better balance supply & demand. As such, the market must stay cheap enough to sustain livestock and biofuel margins well into mid-2018.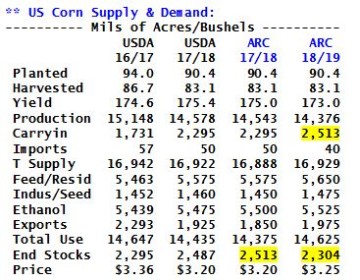 WASDE did raise US corn exports 75 Mil Bu to account for reduced crop size in the Black Sea (Ukraine's production was lowered 2 MMTs), and residual use was lifted to account for larger supplies. However, the US stock/use ratio is still forecast to grow to 17%, vs. 16% in 2016 – the highest since 2005.
  Since August, the USDA has raised US corn production by 425 Mil Bu, and end stocks by 215 Mil, and it will take time to alleviate burdensome US inventories. The table at left assumes unchanged area, 30-year trend yield, and without better exports (via South American supply dislocations), US corn end stocks will stay above 2.3 Bil, which correlates to spot futures in range of $3.30-3.80 – unchanged from recent years.
  All eyes are now on S American weather, but we encourage producers to catch up on new crop sales above $4.00 basis Dec 18 CBOT futures.
Soybeans: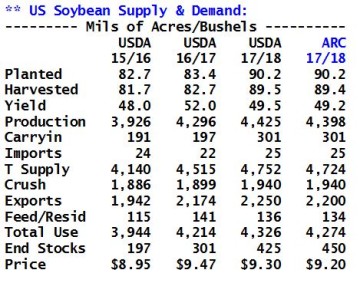 NASS left its 2017 US soybean yield unchaged from October at 49.5 BPA, some 1.5 BPA over trendline. The '17 US soybean yield was 2.8 BPA below last year and did not achieve the record category of corn. This can be blamed on the dryness during the finish of the 2017 growing season with soybean seed numbers and weight being diminished.
Nonetheless, based on record large seedings, the US  produced a record large soy crop of just under 4.4 Bil Bu. This was up 102 Mil Bu from 2016. Total 17/18 US soybean supplies were up 209 Mil Bu which we expect will add about 150 Mil Bu to US soybean end stocks. The supply side of the US soy balance sheet is  defined until the final '17  crop report in January. ARC looks for a 100,000 cut in harvested acres and a .3 BPA fall in yield due to the decline in late season yield data (harvest losses?).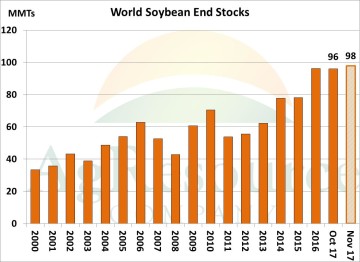 US 2017/18 soybean stock/use ratios of 10.5% argue for a trading range of $9.40-10.20 basis spot CBOT futures. ARC research argues for a cut of 50 Mil Bu in 2017/18 US soybean exports based on slow sales/loadings to date. A trend or below normal trend Brazilian soybean yield is required for USDA's 2017/18 soy export estimate of 2,250 Mil Bu to be justified. ARC sees no reason to debate WASDE US soybean crush/residual estimates so early in the crop year.            
 2017/18 world soybean end stocks are forecast at a record large 98 MMTs (up 2 MMTs from October and last year) as WASDE raised their estimate of the '18 Brazilian soybean crop to 108 MMTs and adjusted last year's world end stocks upwards. This was partially countered by record large China soy imports.
 The US and world hold adequate supplies of soybeans which along with record large demand from China is likely to keep the CBOT range bound into early 2018. Sustained rallies can only occur with adverse South American weather & and a crop threat. Monitor South American weather closely in the weeks ahead.
Wheat:
The US wheat balance a featured a 25 Mil Bu boost in US exports, but was otherwise left unchanged. WASDE cited recent interest in HRW from Iraq, and though Russian exports continue at a record pace, a slowdown there is imminent in Dec/Jan as waterways freeze. And of course the sharp decline in Australia's surplus, which typically hits the world market in January, is important. ARC pegs US wheat exports up another 25 Mil Bu, with final end stocks forecast at 886 Mil. Such inventories are large, but are also the lowest since 2014. So a neutral price outlook is maintained.
  We've also lowered our new crop seedings forecast to 46 Mil acres, unchanged on the year. Reduced carryover and a lack of acreage expansion will further tighten in the US balance sheet in 18/19, albeit slightly, and Russian exports remain at the forefront for future US wheat export demand.
The USDA gave the entirety of the 25 Mil Bu export boost to HRW, and also raised domestic HRS consumption 5 Mil Bu (offset by lower white wheat domestic use), and so higher quality wheat balance sheets tightened marginally. HRW stocks use is now pegged at 52%, vs. 57% in Oct and 63% a year ago. SRW stocks/use is pegged at a record 74%, vs. 73% in Oct and 67% a year ago. Spot KC futures have again traded to a premium to CME contracts, spot MGE's premium to other classes has reached $2.20/Bu, and it makes fundamental sense for both MGE and KC premiums to widen in the months ahead. Higher protein contracts will benefit from Jan-Apr export demand, while there simply isn't much of a market for SRW currently. An expansion in spring wheat acres is still demanded to replenish 2018/19 US HRS stocks.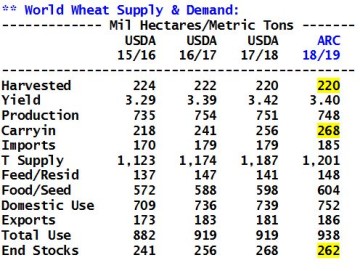 But, there's little indication that the structure of the world market will change without widespread drought in the Black Sea region next spring/summer. Already winter wheat area in Russia is slightly higher than last year, and there's incentive to maitnain acreage in Canada and Australia given this year's rally in cash markets.
Assuming unchanged area, trend yield and trend consumption, the world wheat balance sheet in 2018/19 looks very similar to the current year, and if realized global end stocks of 262 MMTs will be the second largest on record.
  The only way to sustain rallies in wheat is widespread adverse weather or a collapse in the US dollar. The value of crude – and its impact on currencies – will be monitored, but we note that Russian and Argentine farmers are still profitable and will expand future wheat seedings.