Afternoon Weather Update
Sep 13, 3:23 pm
|
Weather
|
Share this:
A change in the US weather pattern is offered for October, with above normal rainfall slated to fall across the N Plains and Midwest. La Nina is rapidly forming in the equatorial Pacific and its influence is starting to be felt in Northern Hemisphere weather. The long range models are all starting to raise the flag on La Nina as being an important weather feature for 2018.
  The EU model October rainfall forecast is attached. Note the trend of above normal rainfall for the N Plains and much of the Midwest. A drying trend should be offered to the southern half of the US with above normal temperatures. This long range forecast is confirmed by the pattern change afoot as a Trough digs into the Pacific Northwest and a Ridge forms over the Eastern US. This Trough/Ridge pattern is a reversal of the upper air flow that has existed since spring. The chance for improved precip should help the US winter wheat crop get established, but it could pose a slowdown of the summer row crop harvest. There is no evidence of a premature end of the 2017 growing year.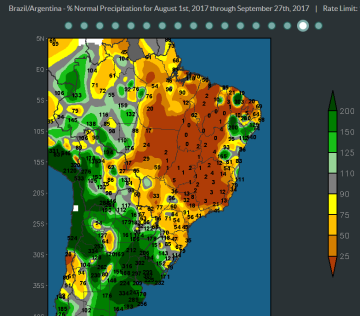 Northern Brazilian soybean and corn seeding is just starting, and it's time to turn our attention back to South American weather.
  The map reflects percent of normal precipitation from August 1st through September 27th. Notice the acute dryness across crop areas north of RGDS in far southern Brazil. Rainfall totals are averaging just 5-20% of normal and drought exists following months of limited rainfall. Such dryness is not unusual, but rain needs to start falling by early October for normal soy/corn seeding dates to be achieved.
  Also notice the above normal rains that have fallen across Argentine crop areas that have saturated soils and produced localized flooding.  Rainfall totals have averaged 6-12.00" in NC and NE Argentina, which is highly unusual during the more normal arid winter months. The excessive soil moisture will pose a challenge to producers that needs to seed crops.  
  The forecast offers no change in the general pattern with heavy rains to return to Argentina next week while dryness deepens across much of C and N Brazil. This pattern should be watched closely heading into early October.