AgResource Farm Marketing Advice for Tuesday: 1/ Wheat Producers: Sell another 20% of the 2022 wheat crop if March Chi wheat reaches $8.02.                        
6:30 AM CT CBOT Prices: March soybeans are up 15.50 cents at $15.4275, March corn is up 3.25 cents at $6.8125 with Mar Chi wheat up 3.50 cents at $7.685.
AgResource AM Grain/Oilseed Analysis: Good Morning! CBOT futures are higher to start the week on the 10-day dry Argentine weather forecast. The lack of rain and continuance of the drought has rallied CBOT soybean/soymeal and corn futures. Soyoil futures are weaker on oil share spreading, but with the US no longer a world exporter of soyoil due to record large renewable diesel demand, ARC doubts that the CBOT soyoil weakness will be long lived. The tightening of world vegoil supplies should allow for soyoil to outperform meal over time.
Brazil is on its "Fat Tuesday" holiday with the celebrations to wind down late today. Brazilian financial markets will be active again on Wednesday with producer soy hedge pressure returning to Chicago. The CBOT will have to work through Brazil's harvest of a record +153 MMTs soybean crop and the drought losses in Argentina with a soy crop of 35-38 MMTs. This year's Brazilian soy crop is up 24-26 MMTs with Paraguay up 4-5 MMTs from last year. The 2-country gain of 28-30 MMTs more than offsets Argentine soy drought losses of 4-7 MMTs vs. 2022. The point is that Brazilian/Paraguayan soybeans will flow into Argentina for processing while Brazil is able to supply world soybean demand.
The Brazilian/Paraguayan soy abundance means that spot CBOT soybeans will uncover substantial resistance at $15.50-15.75 March futures. And due to lackluster US export demand, resistance in spot corn rests at $6.90-7.00 and spot CBOT wheat at $7.90-8.10. This is no place to be chasing a rally with a seasonal price top due in the next few weeks.   
Traders will be closely watching July/November soybean and July/December corn spreads for a sign that the CBOT is peaking. The spread has been a solid lead indicator for the CBOT flat prices in recent months. If the spread cannot score a new high this week, it could be sign of a market that is forming a supply peak on Argentine corn and soybean crop losses due to drought.
July/December CBOT Corn Spread; The Spread is 8 cents off its late January Peak: 
July/November Soybean Spread; The Spread is down 20 cents/Bu from its late January Price Peak.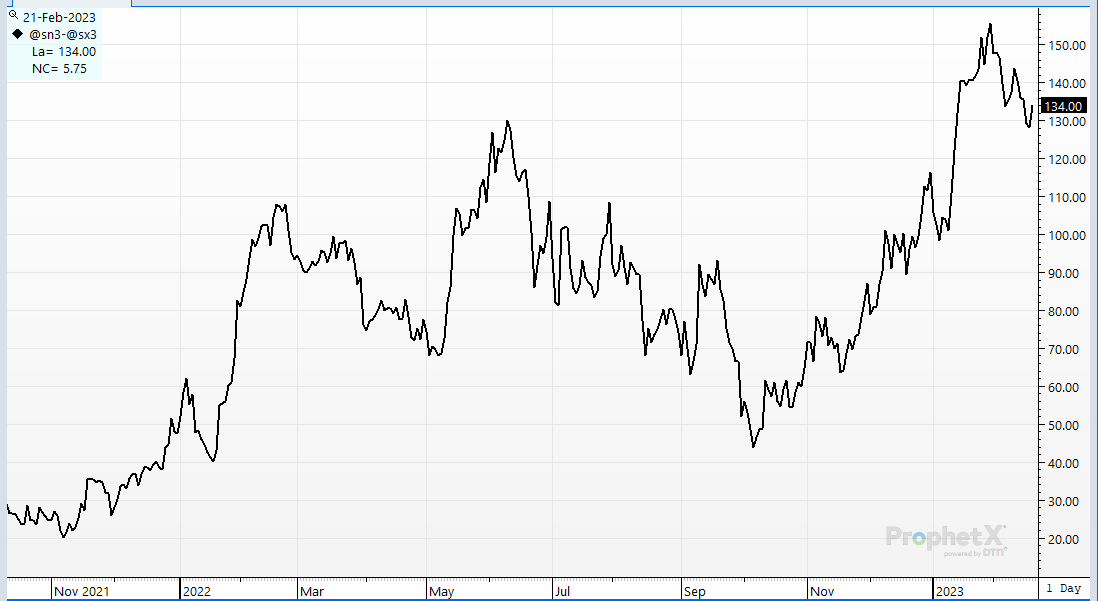 China is becoming worried that a Russian defeat in their Ukraine war would have negative longer-term consequences for SE Asia. China sees itself as a partner with Russia, both from an economic/geopolitical perspective. China is expanding its economic ties with Moscow including the purchase of additional Russian energy and farm goods. Washington hopes that China will not provide military hardware to Russia or risk economic isolation from the world. Tensions between China and the US are at multidecade high on China's prodding of the US with spy balloons and their economic/political support of Russia.
In international ag markets, Paris May milling is down €.75/MT at €290.50. April Malaysian palmoil settled down 26 ringgits to 4,136. China Dalian May corn rose $.03/Bu to $10.64 with May Chinese meal up $2.05/MT at $559.75.
The market is digesting a further loss of Argentine corn/soy production, but Brazilian/Paraguayan crop gains more than offset the Argy losses. Thus, is all about timing when a seasonal top forms before March 3rd. USDA will be out with their annual US Outlook Meeting new crop balance sheets later this week which are expected to reflect building US corn, soybean, and wheat end stocks.
South American Weather Pattern Discussion:
 Other than a few widely scattered showers across Buenos Aries, the weekend was dry across Argentina and Southern Brazil. High temps ranged from the 70's to the mid 80's which was below normal. Cold temps invaded Argentina on Friday and Saturday morning's with lows ranging from the mid 30's to the lower 40's. A lite frost was endured in the low lying areas, but a widespread killing frost was avoided. Northern and Central Brazil received additional rain with totals of .5-2.00" with high temps ranging from the 80's to the lower 90's.
 A lengthy period of dry weather is ahead for Argentina with high temperatures ranging from the 80's to the mid 90's over the next 10 days. Lows will range from the 50's to the lower 60's. There could be a few lite showers later this week, but rainfall totals look to be less than .50" on coverage of 25-35% of the crop area. Rain is indicated in the 10-14 day period for Argentina, but the better chance of rain will occur across RGDS in Southern Brazil. ARC advises to closely monitor the extended range forecast for the return of better Argentine rainfall.
 The N and C Brazilian weather forecast calls for near to below normal rain into mid next week with near to above normal rain in the 10-15 day period. The Brazilian harvest will make progress with cuttings to reach 50% of the soybean crop in early March.
10 Day Dry Argentine Weather Pattern into March 3rd: Near to Below Normal Rains N and C Brazil.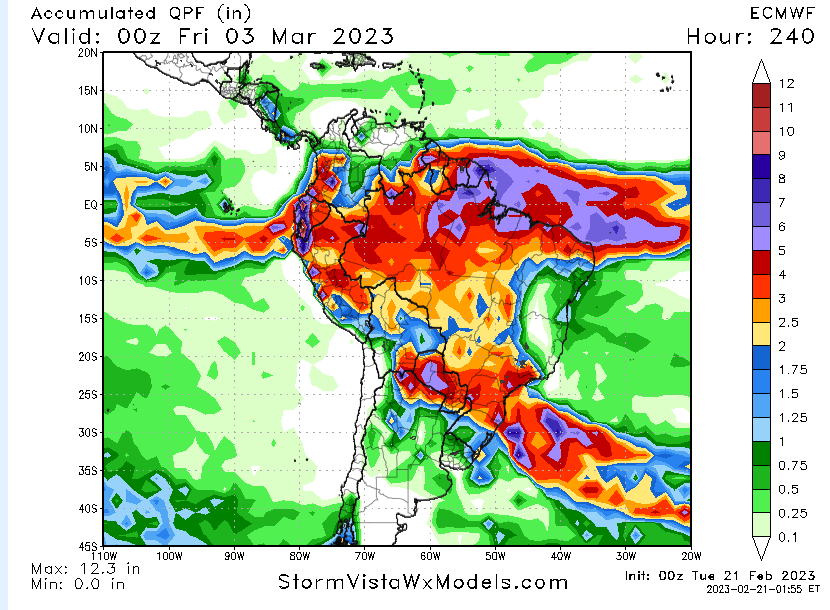 Near to Above Normal Temps for Argentina with highs in the 80's to lower 90's; Brazilian Temps Near Average:
Major Storm to Cross North Central US in Next 3 Days: Snow, Wind and Followed By Cold:
Warmer than Normal Eastern and South Central US; Cold West Under Upper Level Trough:
AgResource Daily Cattle Analysis: Cattle futures rallied to new contract highs last week and a firm outlook is offered for early trade this week. However, new highs were limited to February and April, while the rest of the market was reluctant to follow as prices have reached historic highs.
Nearby strength at the CME was accompanied by another week of sharply higher cash trade. Live sales in the Southern Plains were quoted at $162 or $2 higher. Live sales in the Nebraska and IA/MN regions were $1-2 higher at $160-162, and dressed sales were $3 higher at $257. These were the highest prices since January 2015, and $10 under the record set in November 2014.
Boxed beef values were sharply higher on uniform strength across all primals. The choice cutout value gained $11 to $281 and the select value was nearly $12 higher at $266. Compared to a year ago, the choice cutout value ended the week more than $11 higher and at a record price for mid-February.
Fed cattle supplies are tightening, and slaughter last week was down 8% year-over-year, while cumulative slaughter is down 4%. Fed supplies will continue to contract and underpin both cash and futures on corrections. Support in April cattle is around $160.