Pro Farmer US Corn Yield Estimate Out Today, Central US Weather Too Cold and Trump to Adjust Ethanol Wavier Transgression
D
by
Dan Basse
August 23rd 6:23 am
** AgResource Pre-Opening Sunday Calls:
Soybeans 2-5 cents lower, corn 1-3 cents lower with wheat called 1-2 cents lower.
** Weekend Weather & CBOT Market Discussion:
Opening week CBOT calls are lower as US President Trump raised the stakes in the US/China trade war by raising US tariffs another 5% on nearly all Chinese goods that are imported into the US following China's trade retaliation on US goods on Friday. For US ag goods, the Chinese have already banned US purchases, so the tariff move was largely symbolic, but the late Friday hikes will pressure the world financial markets as world economic growth slows amid the uncertainty associated with US/China trade. And it's doubtful that the US/China will restart negotiations (in Washington) which hints that the trade war is likely to push into and past the '20 US Presidential election.
  Outside of the boiling over US/China trade war, weekend news was supportive. Pro Farmer estimated the '19 US corn yield at 163.3 BPA and the soy yield at 46.1 BPA. Both were well under NASS in August. And August will end on a cool note with GDD accumulations well below average (see GDD's percentage chart and August rainfall as a percent of normal).
 **August 1-31st Percent of Normal GDD:
**August 1-31st Percent of Normal Rainfall:
Friday's CoT report showed that managed money is net short 1,000 Chi wheat (up 5,000 contracts), net short 56,000 corn (up 100,000 contracts) and net short 72,000 contracts of soybeans (up 6,000 contracts). And funds are net short 36,000 contracts of meal (unchanged) and net long 3,000 contracts of soyoil (down 7,000 contracts). The fund short in corn was much larger than expected and is supportive to start the week. AgResource research looks for price lows to be forged early week with a recovery into the coming US holiday.
** North American Weather Review/Forecast:
A progressive weather pattern is forecast for the Central US with some uncertainty in the 11-15 day period as the models offer differing solutions. Near to slightly below normal rainfall and below normal temperatures will prevail for the next 10 days. The chill will further slow US summer row crop maturation and raise crop quality and quantity concern with even normal frost/ freeze dates in October. Monday's NASS crop progress report is expected to show corn/soy crops that are falling even further behind in maturity (relative to normal). The attached rainfall chart is from the EU model and reflects .75-2.00" of rain for the Midwest over the next 10 days. Soil moisture is broadly adequate, its now a race to the finish to reach black layer in corn.
** Below Normal Rainfall for Much of the Central US into September 4th: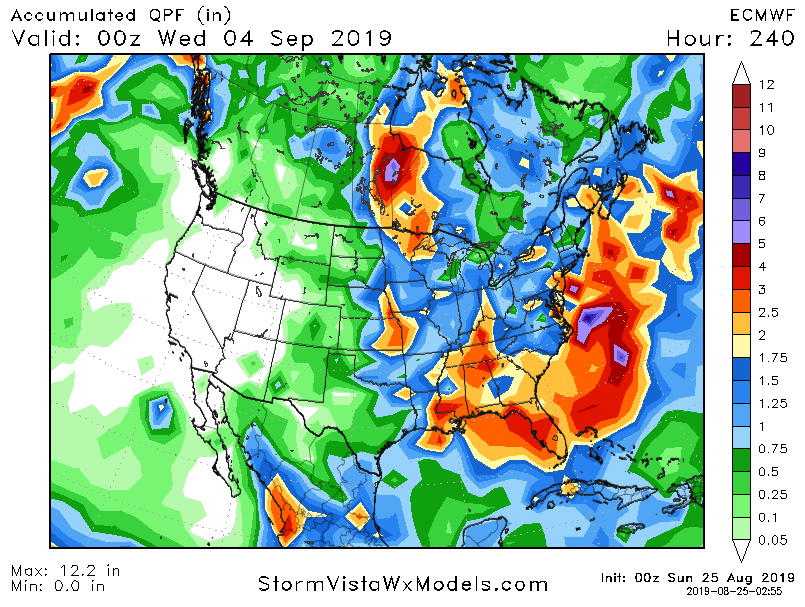 ** Cool to Cold Temps to Further Delay Corn/Soy Crop Maturity: