Summary: Brazil shipped 3.53 MMT of soybeans this past week (Mar 24). That was up 748,000 MT from the previous week and is a 99-week high.  Argentine exports were 24,000 MT. US exports are estimated to be 885,000 MT. The lineup indicates that Brazil's March shipments could be 15.90 MMT.  However, it's likely that 1-2 MMT of this will get "rolled over" and shipped in April. In addition, SESEX exports are likely to be 1-3 MMT below the exports documented by ship lineups.  This is common early in the Brazilian local marketing year. Total Brazilian export commitments are 32.70 MMT, the 2nd highest for this week.  In the March WASDE, the USDA left their projection for Brazil's new-crop exports unchanged at a record 96.50 MMT. For now, ARC's projection is the also 96.50 MMT.
++++++++++++++++++++++++++++++++++++++++++++++++++++++++++++++++
Last week Brazil exported 2.45 MMT of soybeans. That's down 703,000 MT from the previous week.  Cumulative export "commitments"  were estimated to be 32.70 MMT,  which is 3.34 MMT more than a week ago,  Commitments are 4.7% above a year ago (see red line). USDA projects final exports will be 25% ABOVE last year.
There was 14.30 MMT in the lineup that was waiting to load or scheduled to arrive vs 11.60 MMT last year.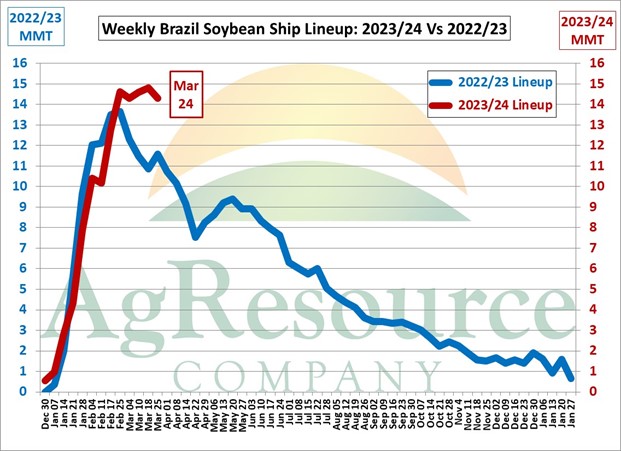 Brazil's cumulative export commitments, for the local marketing year (begins Feb 1), have accounted for 33.9% of USDA's projection vs last year's ratio of 40.5% and the 5-year average of 36.3% (range 31.3% – 40.5%).
The ship lineup indicates that March shipments "could" be 15.90 MMT.  However, it's likely that 1-2 MMT of this will eventually get rolled over and shipped in April.  Last year, March shipments were 12.40 MMT but SESEX exports were 12.25 MMT.  ARC expect final March exports will end up between 14.00-15.00 MMT. There was 8.88 MMT scheduled to ship in April.