Summary: Brazil shipped just 227,000 MT of soybeans this past week (Jan 27). That was up 96,000 MT from the previous week. There were no Argentine exports last week.   US exports were 1.855 MMT. The lineup indicates that Brazil's January shipments could be 1.29 MMT.  Total Brazilian export commitments are 77.84 MMT, the 4th  highest for this week.  In the January WASDE, the USDA raised their projection for Brazil's Feb-Jan exports by 2.25 MMT to 77.50 MMT. ARC expects final exports to be 77.50 – 78.0 MMT.
++++++++++++++++++++++++++++++++++++++++++++++++++++++++++++++++
Last week Brazil exported 227,000 MT of soybeans. That's up 96,000 MT from the previous week.  Cumulative export "commitments"  were estimated to be 77.84 MMT,  which is 718,000 MT  LESS than a week ago (because some shipments were switched to "new-crop" February).  Commitments are 13.7% BELOW a year ago (see red line). USDA projects final exports will be 12.4% BELOW last year.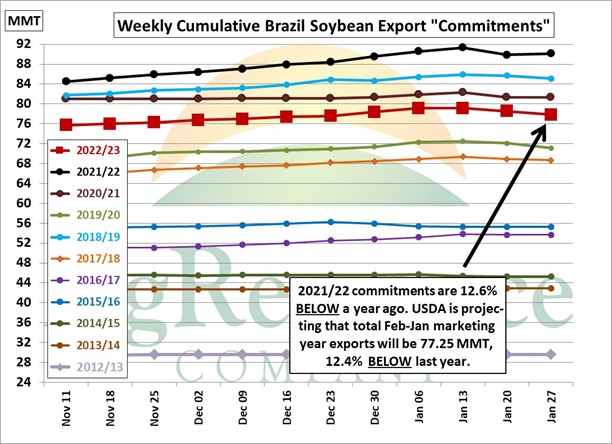 There was 651,000 MT in the lineup that was waiting to load or scheduled to arrive vs 1.02 MMT last year.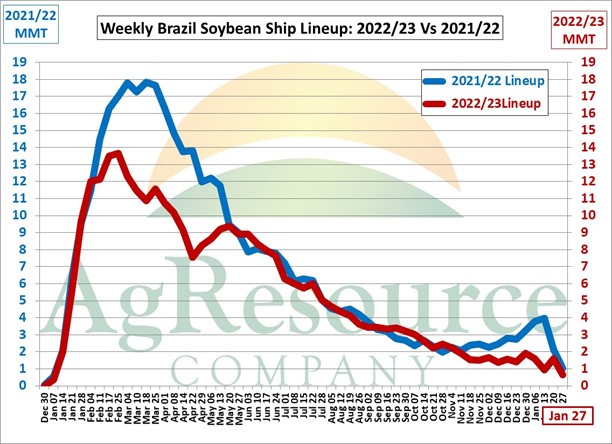 Brazil's weekly cumulative export commitments, for the local marketing year (begins Feb 1), have accounted for 100.4% of USDA's projection vs last year's ratio of 101.9% and the 5-year average of 100.0% (range 96.8% – 101.9%).
The ship lineup indicates that January shipments could be 1.29 MMT.  Last year's January shipments were 2.28 MMT but SESEX exports were 2.45 MMT.  We think final January exports will end up between 1.00-1.50 MMT. There were 7.48 MMT scheduled to ship in February.