** AgResource Pre-Opening Sunday Calls: Soybeans 1-3 cents lower, corn 1-2 cents lower with wheat called steady to 2 cents lower.
 ** Weekend Weather & CBOT Market Discussion: Opening week CBOT calls are slightly lower on Friday's poor technical close and the planting progress that Central US producers scored over the week and weekend. ARC estimates that 82-84% of the US corn crop and 66-70% of the soybean crop has been seeded through today. The estimate of US corn prevent plant have narrowed to 6-9 Mil acres,   which means that many US farmers will end their corn planting effort this week. Soy seeding will go on for another 10-14 days with additional acres to be seeded compared to the March intentions.
  For the marketplace, its focus will be shifting from acres to yield which means an intent interest in  Central US weather after June 15th. 
 The attached map reflects percent of normal rainfall since June 1st and the drying trend that has allowed soils to firm and farmers to seed. Portions of S WI, W MI and OH are still fighting with excessive rain.
**US Rainfall as % of Normal Jun 1-18th: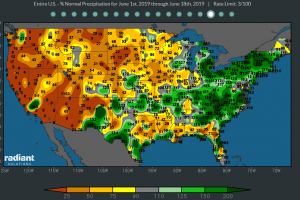 NASS will be releasing its first corn crop condition rating with ARC estimating 49-53% of the crop is good/excellent, the lowest in years. However, there is no correlation between initial US corn crop ratings and final yield.
  The USDA will be out with their June Crop Report on Tuesday with WASDE analysts likely taking a conservative approach to late spring seeding. NASS will have to conduct a special acreage survey in July to document PP acres and those acres that were planted to other crops (vs June intentions).
 The US/Mexico reached a deal late Friday to avert US tariffs and US President Trump and Chinese President Xi will meet on the sidelines of Japan's late June G20 meeting. The Trump Administration is threatening to impose another $300 Bil dollars of 25% tariffs if China does return to the negotiation table and accept text that was already agreed in May. That will be difficult for China.
Managed money positions as of Tuesday's close on June 4th were; Long 87,000 contracts of corn (up 108,000 contracts) and long 2,000 contracts of soymeal (up 22,000) while being short 13,000 contracts of wheat (down 11,000),  93,000 contracts of soybeans (down 37,000 contracts) and 56,000 contracts of soyoil (down 8,000 contracts). In total, funds bought an estimated 186,00 contracts of CBOT grain contracts on the week. The larger than expected net long corn position was a bearish surprise. 
** North American Weather Forecast: The attached EU model 10-day rainfall map reflects that any heavy rainfall will be focused on the Eastern US over the next 10 days. Rains of .2-1.25" for the W & C Midwest is favorable as they will not cause lasting seeding delays with moisture needed to break up soil crusting.
  The GFS 10 day forecast is wetter and likely in error due to its picking up another tropical storm in the Eastern US Gulf. Temps will be cool over the next 5-6 days and slowly warm to seasonal mid 70's to mid 80's by June 15th. The Midwest forecast is seen as non-threatening.
 Better rains are also slated for Central Canada.
**  5 Day Rainfall Forecast Thru Friday; Additional Seeding Chances Throughout W Midwest, Plains and Illinois. Some Rains for IN/MI/OH
** EU Model 10 Day Rainfall Forecast for North America: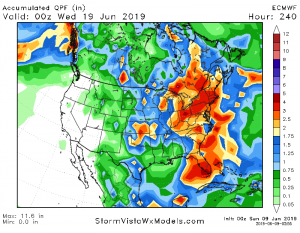 ** Temps Average Below Normal This Week and then Warming to Seasonal:
** Rather Normal Summer Weather Pattern for North America into June 20th: