Highlight: Evolving snow and cold Northeast U.S.
Charts of the day: The ECM and GFS 10-day snowfall forecast.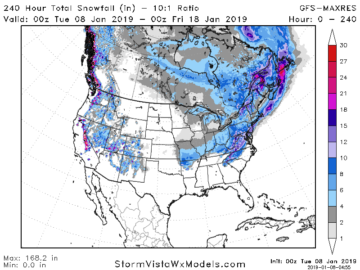 Discussion: The 10-day GFS and ECM snowfall forecast indicate a bias toward increasing snow cover for the northeast sector of the U.S. and southern Quebec. The GFS forecast spreads heavy snow to the Mid-Atlantic and Northeast U.S. coast. The increasing snow cover in the Northeast U.S. increases a cold climate bias for that region.
Week 2 Ahead: January 13-19, 2019
Comment: A coastal storm with questionable snow amount in the Mid-Atlantic/Northeast U.S. occurs early period. Warmth retreats to the Central U.S. Stormiest weather is across the Southwest U.S. to Texas.
Week 3 Ahead: January 20-26, 2019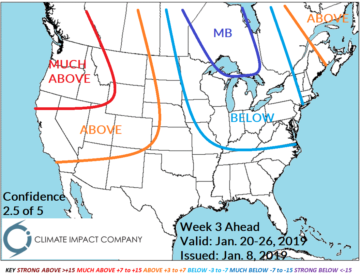 Comment: Mid-to-late period cold builds into the East U.S. likely following snow storms (in the Northeast corridor). Warmth and dryness expands across the West.
Week 4 Ahead: January 27-February 2, 2019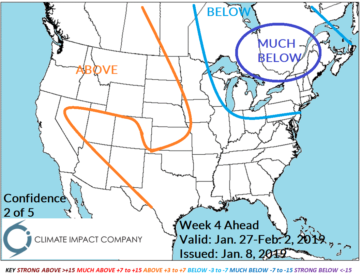 Comment: Deepening snow cover holds the cold into the Northeast U.S. Dryness and anomalous warmth dominates the West and Central States.