Corn Now Flat on Week; Ethanol Production Surges
Sep 7, 4:20 pm
|
Corn
|
Share this: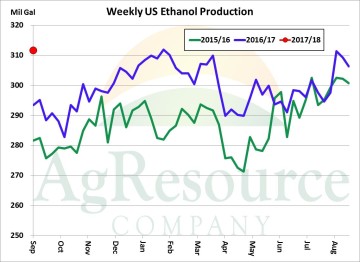 The US dollar plunged to new lows for the move, currencies in other major exporting countries continue to rally, and ethanol production last week was near record high – which is unusual for late summer – but other corn-specific news is lacking. Dec surrendered this week's rally today, and enthusiasm for new positions will be low ahead of next week's USDA reports.
  US plants through the week ending Sep 1 produced 312 Mil Gal of ethanol, second only to one week in January and up 28 Mil on the same week in 2016. Ethanol stocks fell 1% in spite of weaker domestic blending, and so far there's no sign that export demand has fallen amid Brazil's recently passed tariff on imports from the US. Production margins are still quite profitable through autumn, and spot RBOB maintains a $.13/Gal premium to ethanol.
  ARC fully expects the market to bound to a narrow range until harvest expands into the Central Midwest, and finally the trade can gage the full extent of this year's severe regional dryness. First-crop corn planting in Brazil begins within the next month.