** AgResource Farm Marketing Advice for Friday: 1/ Corn Producers:Sell 20% of the estimated 2020 corn crop at $4.23. This would price 60% of the 2020 corn crop.          2/ Corn Producers: Sell 20% of the 2021 corn crop at $4.24 and 20% at $4.29 basis Dec 2021 corn futures.
 ** 6:30 AM CDT CBOT Futures: July soybeans are up 4.00 cents at $8.92/, July corn is up 5.00 cents at $4.47 and July Chi wheat is up 2.0 cents at $5.375.
 ** AgResource Morning CBOT Comment/Analysis: Good Morning! CBOT values were mixed at the start of a new trading session but have firmed with corn scoring new rally highs this morning. Soybeans and wheat futures have followed.
  Just over 39,000 contracts of July corn have changed hands with over 20,000 contracts of November soybeans and over 6,000 contracts of July Chi wheat.
  The CBOT supply driven rally restarted after the June USDA Crop report as WASDE cut its US corn yield estimate by 10 BPA to 166 BPA. The big yield decline was accompanied with a 3 Mil acre drop in US corn harvested acres.
  CBOT traders are betting that NASS will uncover an additional 3-6 Mil acre corn seeding decline in the June 28th US Final Seeding Report which means that assuming WASDE holds its yield at 166 BPA in the July WASDE, an additional 500-900 Mil Bu of production will be lost with US corn end stocks falling to 1.1-1.3 Bil Bu amid adjustments to 2019/20 US corn exports and domestic use.
  Each day, the market measures whether supplies are rising or falling and adjusts accordingly. This is the crux behind any weather supply driven market.
When the market perceives or reaches a point where the US corn crop is at its smallest, a CBOT top will be scored. The US is already losing export share and domestic feed demand is being rationed by cheaper Plains HRW cash wheat. In a world is awash in too much wheat, corn and soybean supply – the CBOT rally is all about the loss to the 2019 US corn crop!
  US Undersec McKinney, USTR Chief Ag Trade negotiator Doud and USDA Chief economist Johansson were grilled by the US Senate Ag Committee on Thursday.   McKinney and Doud pushed Senate members to ratify USMCA, but the questioning back from Senators was all about US/China and US/Japan trade progress. And to that point, the US trade team could not answer when deals could be reached. There was little optimism that US could achieve a trade deal with China or Japan anytime soon.
  ARC is concerned that the Chinese are preparing to wait out the US and see if the 2020 US election produces a new US President? The Democrats in campaign pledges are talking against Trump tariffs which to be music to the ears of any country now in trade negotiations with the US.  
  The Central US weather forecast is little changed from prior days with showers/storms to restart on the weekend and become numerous next week from the E Plains, Delta and the S Midwest. Cumulative rainfall totals look to range from 1-3.50" which will reaggravate flooding in some already saturated states like IN, OH and MI. The remainder of the Midwest is looking forward to the moisture following 2 weeks of below normal amounts. IF there is any good news it's that the 9-15 day period offers a period of warmer/drier weather.
  ARC's bet is that a top in the supply driven bull will be scored in coming weeks as funds pile into a net long corn position of over 250,000 contracts.
** North American Weather Pattern Discussion: The EU & GFS models are in good agreement for the next 6 days with differences in the 8-14 day period. The GFS forecast model maintains a wetter outlook than either the EU and Canadian models. However, ARC notes that the EU model has added some rains for MI, OH and PA in the 6-10 day period compared to yesterday. 
 The attached graphic reflects the 10-day rainfall forecast from the EU model.
A zonally flowing jet stream is developing to the south of the US/Canadian border which will produce next week's E Plains, Delta and S Midwest storminess.     
  Cumulative 10 day rainfall totals will range from 1.50-3.50" with locally heavier totals. The rains are desired for W and C Midwest crop areas that have been parched for 2 weeks, but too much rain will  renew flooding across IN, OH and MI.
  The first storm system is evident in the E Plains which is enduring the heavy rains this AM. There will be 3-4 additional short waves that will pull eastward across the Central US in the next 10 days. Each system looks to produce .5-1.50" of rain. The chance for .5-2.50" of rain next week includes much of the N Plains and W Midwest where crop conditions are improving. Temps look to be near seasonal levels into June 24th.
** EU Model 5 Day Rainfall Forecast: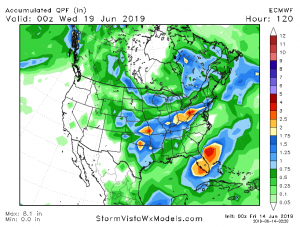 ** EU Model 6-10 Day Rainfall Forecast: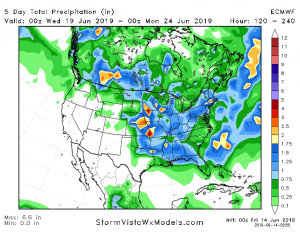 ** 10 Day EU Model Rainfall Forecast: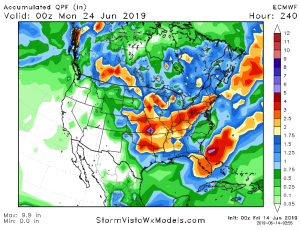 ** Seasonal Temps for Much of North America Next 10 Days: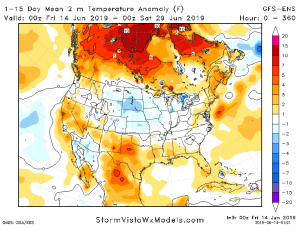 ** AgResource Daily Cattle Analysis: Cattle futures were weaker at the close on Thursday and a steady outlook is offered for early trade this morning. August cattle were under follow through technical pressure at the open, a midday rally struggled above unchanged, and the market was back near midrange at the close. August settled just under $105, or $7 under early cash trade.
  Light cash sales were reported Thursday in the Central and Southern Plains were some cattle reportedly traded for $112, or $1 lower from last week.
  Slaughter data for the week ending June 1st showed an average steer carcass weight of 842 Lbs, 9 Lbs lighter than a year ago and the lowest seasonal level since 2011. Typically carcass weights bottom in mid to late May, and a turn higher is expected in the coming weeks. Basis has narrowed substantially and the incentive to speed up marketings has been lost.
  Technically, CME futures have found support from deeply oversold levels, with 3rd quarter futures were the most undervalued. Next targets for August cattle are at major moving averages from $111-113.00, but the market needs a cash market related reason for a rally.