*****Morning Commentary****
** 6:30 AM CBOT Futures Are; March soybeans up 1.50 cents at $9.2575, March corn is up 1.75 cents at $3.84 and March Chi wheat is up 2.25 cents at $5.19.
 ** AgResource Morning CBOT Comment/Analysis: Good Morning! Moderate volume and mostly higher is the CBOT overnight. The market awaits news on the 2nd day of US/China trade talks while the South American weather pattern threatens to produce diminished crops in Argentina and Brazil.
  CBOT price trends are firm as traders debate as to whether China returns will secure US grain and other ag products in the wake of positive Beijing discussions? China booked some 1.0 MMTs of US soybeans yesterday and by ARC's count, reached the long talked about target of 5.0 MMTs of Gov't reserve buying. Rumors abound on potential US corn, wheat, cotton and US meat buying, but confirmation of the demand is awaited.
  Interesting is that China has approved 5 new varieties of GM crops including genetic material for soybeans, corn and canola.
The announcement of GM approvals comes as the US demands more agricultural imports into China amid worries about China's prior phytosanitary barriers.     The media is reporting positive results of the US/China Beijing trade talks. However, it's expected that USTR will offer their own press release to capsulize what was achieved in Beijing. The results of these negotiations will then be pushed up to the higher levels of each Gov't with high hopes that a signed trade deal can be reached before March 1st. 
  On reducing the US trade deficit with China, ARC expects that like the trade talks back in May, China will agree to a sizable dollar amount of ag and energy to be bought annually. The list if ag products will be long, but China will have the latitude to secure what it desires. Amid the worsening African Swine Fever for its pork herd, US protein imports could be prominent.
  The Australian Bureau of Meteorology is forecasting an early demise of El Nino with cooling in the equatorial Pacific to cause neutral conditions by March or April. This means that other weather variables will drive world climate in the months ahead. This raises the US weather risk of drought.
  The South American weather pattern shows little change over the next 2 weeks with drought to impact NC Brazil while flooding rains drop across the northern third of Argentina. Crop sizes in both countries are likely to continue to decline into late January. Brazil's CONAB will be out with their soybean and corn estimates on Thursday. ARC looks for a soy crop estimate around 118 MMTs.
  Index funds start their 5 day rebalance today and likely use TAS to limit the impact in the market. Index funds will sell moderate amounts of grain, while being modest net buyers of soybeans, but big buyers of soyoil.
  Any CBOT weakness should be short lived amid positive US/China trade talks and threatening South American weather. 
** Limited Snows and Mild Temps for the Central US into January 18th: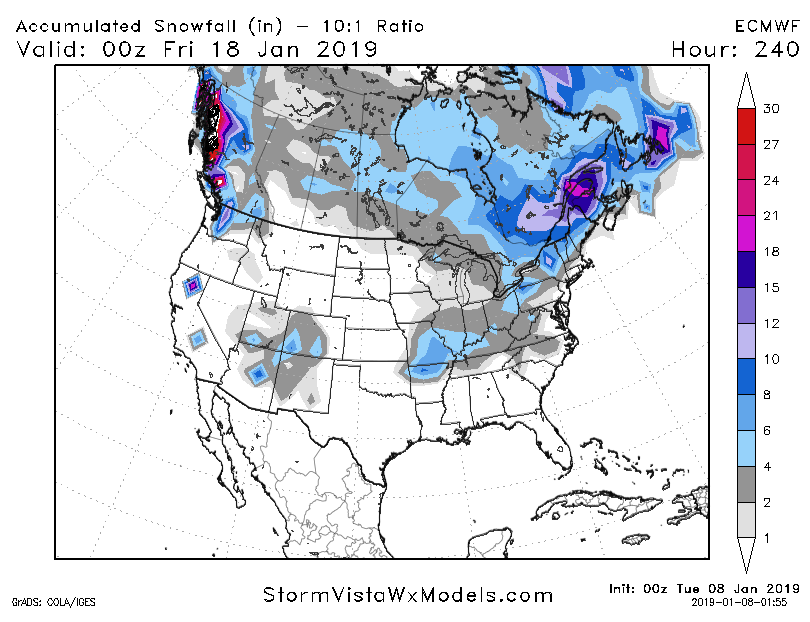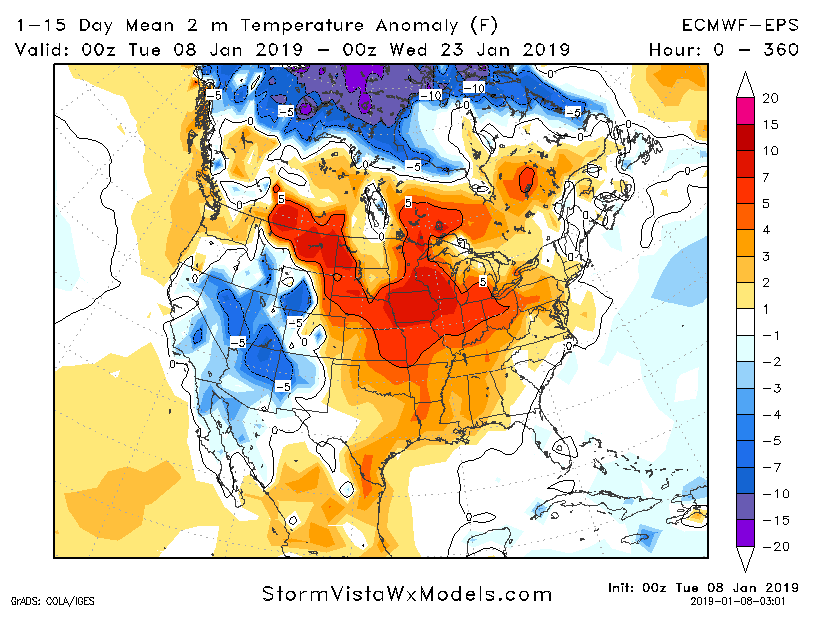 ****Mid-Day Commentary*****
It has been a mixed morning at the CBOT with traders positioning for the coming index fund re-balance/roll that starts tomorrow. The roll is expected to cause the selling in corn/wheat and modest buying in soybeans. Traders expect that the rebalance will pressure the grains – and are positioning accordingly. Soybeans are holding on threatening South American weather.  
  However, in the background is talk of considerable progress being scored in the US/China trade talks in Beijing. Rumors have the US/China reaching some sort of an agreement on the protection of intellectual/industrial property, and that the easy part of cutting the US/China trade deficit to be on Tuesday's agenda. If the US/China can agree on the dollar amounts to be cut in the deficit (opening of Chinese markets to US goods), the stage could be set for higher level talks of the US/Chinese Gov't to reach a deal. Both sides seem to be working to reaching a trade deal to be inked by March 1.
** China is said to be checking US corn/soybean fob offers this morning. No corn has traded, but commercial traders tell ARC that the US could sold 15-20 cargoes of US soybeans to COFCO or SinoGrain (900,000-1.1 MMTs). Like last week, we are told that cash sales are occurring, but that confirmation will be lacking from the USDA with the Gov't partially closed (no USDA reporting).
  ARC maintains that China is near done working to book 5.0 MMTs of US soybeans for their Gov't reserve. What is different today is that China is rumored to be checking prices for US FOB corn! Rumors abound in corn, cotton and other US grains, but we cannot confirm a sale. Traders will be watching to see if China books a US grain other than soybeans this week?
 ** US export inspections for the week ending January 3rd were; 19.7 Mil Bu of corn, 24.7 Mil Bu of soybeans, and 9.6 Mil Bu of wheat. US corn/wheat shipments were less than expected, while soybeans were near trade hopes. ARC notes that China did ship out 2.7 Mil Bu of US soybeans last week with new vessels showing up in the vessel line-up nearly daily. US exporters tell ARC that US corn and wheat shipments will pick up in the post-holiday period.
 ** Algeria is tendering for optional origin wheat for 50,000 MTs of milling wheat (but is likely to secure 400-600,000 MTs) for late February and March shipment. The results of the tender will be Jan 8th with offers good into Jan 9th. US, French and Argentine wheat are in contention for the Algerian demand with freight rates determining who will book the tender? ARC also expects that Egypt's GASC could tender for wheat in the next week for late February needs.
** Midday GFS South American Weather Discussion: The midday GFS solution is similar to the overnight run with below normal rain for NC and NE Brazil. A few showers develop early next week across Mato Grosso, Goias and MGDS, but most amounts will be less than 1.00". Drier weather follows next week. The best rains will drop across S Brazil/northern third of Argentina. Soaking rains of 6-10.00" impact the northern third of Argentina with flooding to become widespread. Below to much below normal temps will persist across Argentina amid considerable cloud cover. Temps average above normal through the next 10 days with heat centered on NE Brazil with highs in the 90's to the lower 100's. There is no indication of a lasting pattern shift.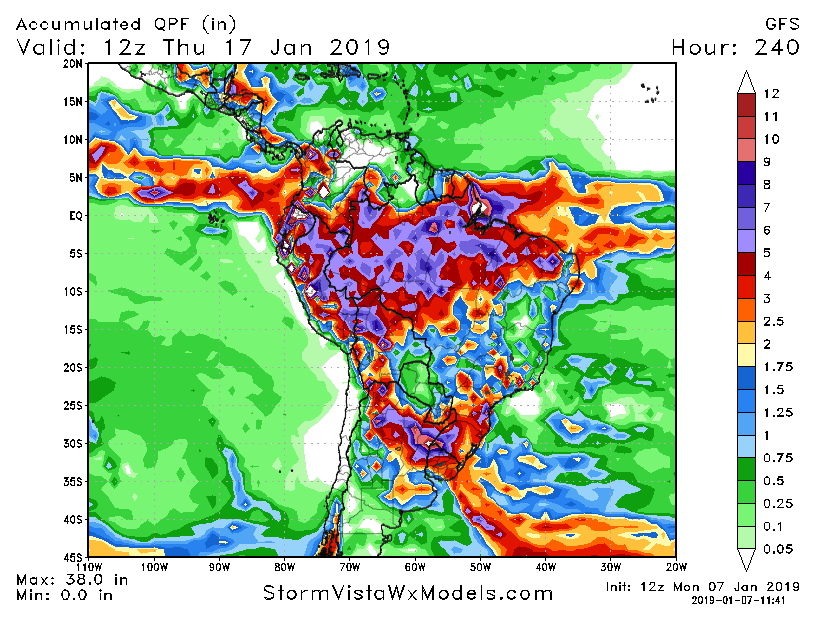 ** AgResource Market Analysis: Sell the rumor trading is occurring in US soybean futures as cash traders discuss the sale of another 1.0 MMTs of US soybeans to China. And grains are weak on selling ahead of index fund re-balancing which starts on Tuesday. However, US wheat prices are not expected to drop too far amid strong world prices and rising demand (Algeria/Ethiopia). If China purchases US corn/wheat it would be a big deal! South American weather is supportive with a lower soy/corn estimates due out of CONAB on Thursday.