AgResource Farm Marketing Advice for Friday: 1/ Corn Producers: Sell 20% of the estimated 2020 corn crop at $4.23. This would price 60% of the anticipated 2020 corn crop.                                
 2/ Corn Producers: Sell 20% of the 2021 corn crop at $4.24 and 20% at $4.29 basis Dec 2021 corn futures. This would price 60% of the 2021 corn crop.        
Considerable talk has developed since Tuesday's USDA June Crop Report regarding wet Midwest weather and its impact on the US corn seeded acres. The attached map reflects the key US corn areas and rainfall percentages from normal since June 1st   – including the wet forecast into June 22nd. Notice that most Midwest corn farmers are wanting a good  rain following weeks of below normal totals. The exceptions are MI, IN and OH which accounted for 13% of 2018 US corn production. The remaining 87% of intended Midwest corn production will benefit from the moisture. Delta and Gulf State corn is starting to pollinate and the cool temps offer real assistance.   
Central US Wet in East; Favorable Elsewhere
The Central US pattern is little changed from prior runs and the EU and GFS are in better agreement.
Heavy rain will impact the Delta and E Corn Belt into mid next week. Totals are estimated at 1-2" across; S IL, IN, OH and MI. Heavier localized totals are possible in OH. This rain is unwanted.
However, a lengthy period of dry/cool weather lies ahead for the Central Plains and Western Midwest. Little to no rain is offered for; W KS, NE, SD, IA, MN and WI in the next 7-8 days. The GFS model's projected 7-day change in soil moisture is attached. ARC notes that soil moisture has been in fast retreat since May across the Plains/W Midwest as a more normal climate pattern has been established.
The message is that excessive precip concerns are now focused on IN, OH and MI and have become regional in nature. The rest of the Midwest desires more rain.
16-30 Day Precip Outlook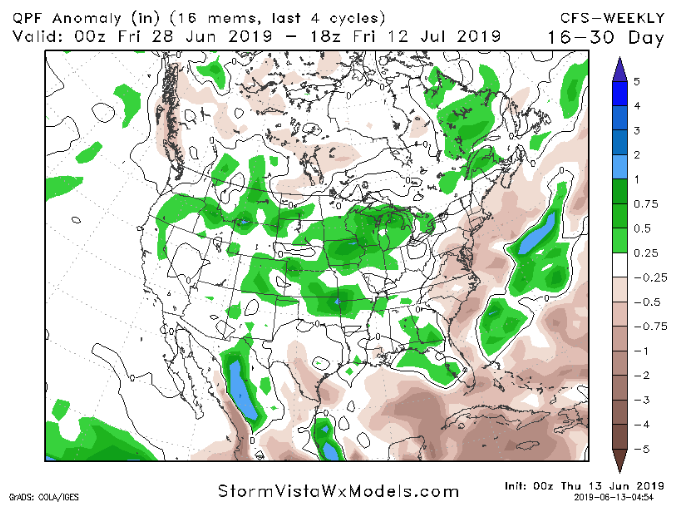 The EU model's 6-10 day forecast maintains a southerly jet stream with additional rains centered on the Southeast US. Isolated showers worth .50-1.50" return to NE, MN, and IA June 20-22. However, excessive rain is not indicated. A lack of excessive rain continues during the 11-15 day period.
The models have struggled with extended range details in recent days, but there's general agreement that a mix of rain/warming temps is probable. The CFS model's 16-30 day precip forecast is at left. Private forecasts agree that normal/above normal rain is probable into mid-summer. Temps will average near normal. Following uneven stands and weak root structures, it's important that rains are consistent into pollination. Fortunately for yields, lasting dryness nor extreme flooding will be a concern this summer. Yet, an extended growing season is needed for crops to reach full maturity.
US Wheat Supply & Demand by Class
ARC looks for "sloppy" US high protein 2019/20 wheat balance sheets. HRW conditions are the highest since 1999, barely edging out 2010. Spring wheat's 81% GD/EX rating is the highest since 2010. It's early in the growing season, but such lofty crop ratings correlate strongly with above trend yields. This relationship is displayed in the attached graphic. ARC also mentions that the spring wheat planting reached 93% on June 2nd and has finished last week. The Plains wheat crops have high potential!
SRW ratings are historically low and a below trend SRW yield is expected. US SRW stocks even with diminished export demand will be a tight 100-105 Mil Bu.
  However, the same demand loss is projected in higher protein classes and amid US wheat protein stocks will balloon in 2019/20. ARC projects combined HRW and HRS stocks at 934 Mil Bu, up 141 Mil Bu from 2018/19. This is also the largest US protein wheat stocks since 1987 – when the US Gov't used to EEP wheat to boost US export demand.
High protein US wheat stocks/ use will be a record large 67% or worth 251 days of use!
Chicago wheat's premium to KC is valid. Chicago will also gain on Minneapolis into late 2019.
Although rising US corn prices are wheat supportive, HRW cash wheat is likely to deepen its appeal into cattle feed rations and KC wheat could become deliverable against Chi futures depending on rail freight costs. Moreover, the marketplace has to discourage wheat seeding for the 2020 harvest, which is a very strange statement with US wheat seedings already at a 110-year low! 
Soybeans Extend Weekly Gains Through Thursday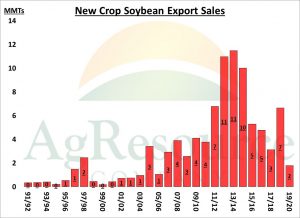 CBOT soybean futures traded higher overnight, and extended the gains as funds continued to cover their large net short soybean position. At the close, soybeans were up 9-10 cents.  Funds were estimated buyers of 10,000 soybean contracts, putting the estimated weekly total at 33-37,000 contracts.
  The weekly US Export Sales report continued to reflect limited US business. Old crop sales were at a five-week low of just 256,000 MTs, though, weekly exports were at a nine-week high. The real disappointment is in new crop, where exporters have booked just under 2 MMTs of sales. A year ago they had nearly 7 MMTs sold. The current US sales figure is the slowest since 2005! The lack of Chinese business has had a very noticeable impact on the US new crop export outlook.
 Recent strength in the soy complex has  been a function of rising corn. The soy outlook is bearish as farmers will continue to plant soybeans into the end of June. With a limited US export program, rallies should be choked off by record large US and world supplies – not to mention China's ASF woes.
 Corn Hits New Rally High on Eastern Midwest Cash Markets
CBOT corn futures ended just above its recent high amid a rising E Midwest cash market – where planting is most behind, and producers are holding onto old crop stocks.
 Basis in Central OH is attached. Basis has firmed despite the $1.00 rally in futures. End users here are scrambling for supply amid the yield uncertainty. Flat prices and spreads are combining to pry stocks from the producer.
  Next chart-based resistance lies at $4.65 July, but it remains that US corn export demand is being quickly reduced. Old crop US corn export sales totaled a pitiful 6.6 Mil Bu last week. There is simply little activity in the US corn export market with Argentine FOB offered nearly $.60/Bu below the Gulf. A pace of 23 Mil per week is needed to the USDA's forecast or US 2018/19 exports will be lowered another 50-100 Mil Bu.
 A combination of rising old crop US corn stocks/falling future US export demand and US production uncertainty will sustain volatility. ARC reiterates the need to price 2020 & 2021 production and do not chase the CBOT rally. A lasting top is due by early July as US seeding and June 1st stocks are known
Wheat Follows Corn Higher; US SRW Most Expensive Wheat in World
US wheat futures rallied again, led by Chicago on coming Midwest rain. KC's premium to CBOT corn rests at just $.34/Bu with interior Kansas cash wheat offers below corn. This will produce higher wheat feed consumption across the Plains.
Otherwise, wheat fundamentals remain bearish amid enlarged high protein US production and non-competitive prices in the world market.
The attached graphic shows updated fob prices from the major exporters. Of note is that Gulf SRW is offered at a massive $18/MT premium to HRW. SRW exports will be slowed dramatically at such lofty premiums to HRW and all other origins. ARC projects new crop SRW exports at 94 Mil Bu, but this could fall to 80-85 Mil without a change in price relationships. Russian and French cash prices are lower so far this week.
CBOT wheat will try to follow corn into late June. But ARC views Sep Chicago as overvalued above $5.20. There's no need to slow demand or attract US wheat acreage expansion in 2020 amid abundant US/world supplies.  
Hog Futures Close Sharply Mixed On Thursday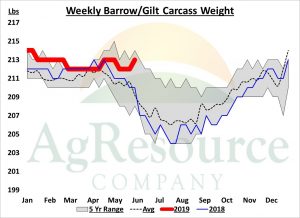 July hog futures slipped to new lows on Thursday and were $1 lower at the close, reaching the lowest price since early April. The rest of the hog market was moderately higher, with October hogs up $1.10, while most 2020 hog contracts were $1+ higher. The CME's lean hog index was down $.12 at $79.54, and we estimate a $.04 gain for Friday.
  The latest weekly slaughter data from the USDA, for the week ending June 1st, showed an average barrow/gilt carcass weight of 213 Lbs. The figure was up 1 Lb from the previous week and 3 Lbs heavier than a year ago. The cool spring/early summer has put minimal stress on hog finishers and is holding weights near historic seasonal highs. The only year that weights were heavier was in 2014 when hog feeders were short inventory due to PEDs. That year, producers were looking to make up for lost head with heavier carcass weights.  
  The cash hog and pork market are struggling under record large US production, while the CME is shedding speculative China premium. Unless a major China buying program gets underway, it's likely that a seasonal cash market high is in place. China needs to become a much larger buyer.
 AgResource Farm Hedge/Cash Positions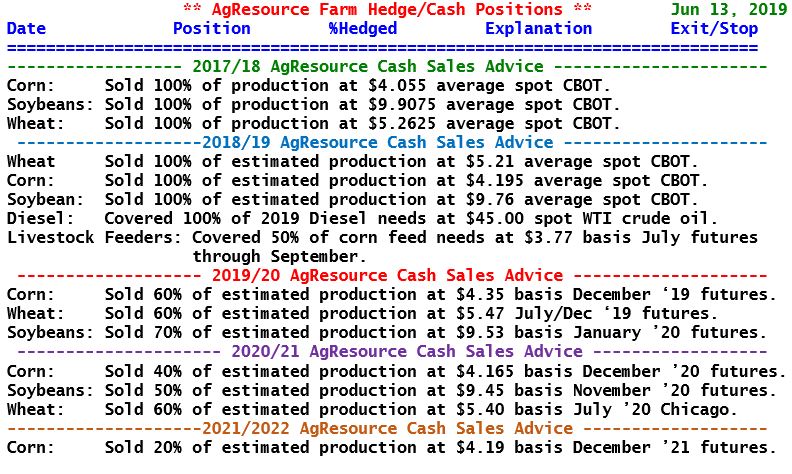 AgResource Ag Investment Trades