Red Meat Exports In December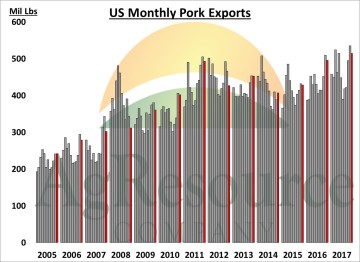 ** US Pork Exports Mark Record December Level: Pork exports in December were just over 514 Mil Lbs, down slightly from November, but a record large figure for the month. The December figure also put the 4th quarter total at an all time record, while the annual 2017 total was up 7% year over year, also record large. The year end totals show that Mexico was the largest destination for US pork, taking 32% of total US exports, while another 22% was sent to Japan.
  US export growth in 2017 was heavily dependent on Mexico, with total year exports increasing by just over 198 Mil Lbs (12%). Exports to S Korea rose by 118 Mil Lbs (29%), while the big disappointment was that exports to China fell by 116 Mil Lbs (23%), even as China increased it's total pork imports through the year.
 The pork market will closely watch upcoming NAFTA negotiations, as US prices will be heavily dependent on US pork flowing into Mexico, as production reaches record levels in the year ahead. The time for NAFTA concern is during May/June.    
** US Beef Exports Expand With Larger Production: US December beef exports were slightly better than November, and marked the 2nd largest monthly total of the year at 261 Mil Lbs. This was also a record large total for the month of December, and the 4th largest monthly export figure for any month on record. Total US beef exports for  increased by 306 Mil Lbs (12%) in 2017, largely due to an increase in exports to Japan which rose by 171 Mil Lbs (26%) from 2016. Exports to S Korea increased by 42 Mil Lbs (12%), and exports to Mexico were up 25 Mil Lbs or 15%. When it comes to beef, NAFTA partners are much more reliant on the US as the US was a net beef importer of 430 Mil Lbs from Canada, and also a net importer from Mexico for the 3rd consecutive year of 154 Mil Lbs. So far, US beef exports to China remains limited.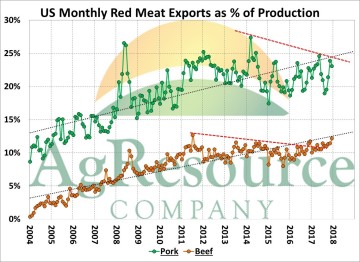 ** US Pork Exports Keeping Up With Production; Beef Exports Spike:  While US pork exports were record large on a product weight basis in December, the monthly figure was equal to 23% of the month's total production, slightly above the average for the year. In other words, exports are simply keeping pace with production, but not reflecting a surge in overall trade.
  In beef, December exports amounted to 12% of US production, above the annual average of 11% and also the 2nd largest monthly total on average. Whether this is a 1 month spike, or an early hint at building demand for US beef will not be known for months. But with US red meat production figures set to reach record levels in the upcoming months, a surge in export demand is needed to maintain current high prices.