AgResource Farm Marketing Advice for Wednesday: 1/ Corn Producers: Sell 20% of the estimated 2020 corn crop at $4.23. This would push sales of the 2020 US corn crop to 60%.                                  
2/ Corn Producers: Sell 20% of the 2021 corn crop at $4.24 and 20% at $4.29 basis Dec 2021 corn futures.                   
Higher has been the morning in Chicago. Beans are leading the way as some focus turns to the G20 Summit later this month in Japan – and whether Trump an Xi commit to the previously scheduled dinner. Following the recent deal with Mexico, there's more market optimism surrounding US-Chine reengaging in talks. However, it's ARC's bet that future talks will pause the tariff war rather than eliminate it. There's also talk indicating new tariffs on Chinese goods will go into effect if Xi fails to meet with Trump in Japan. Political uncertainty abounds.
Otherwise, what news is available today is mixed. US ethanol production through the week ending last Friday totaled 322 Mil Gal. This is up a sizable 15 Mil on the prior week and is near the highest weekly number on record. Ethanol plants that were able to secure corn prior to the real beginning of this season's supply driven bull look to maintain a strong ethanol grind well into summer. Ethanol stocks fell to new 12-month lows despite the surge in production.
ARC also mentions that ethanol prices have rallied along with corn, keeping futures-based production margins stable at $.10/Gal. However, the inventive for discretionary blending has collapsed amid weakness in gasoline prices. US crude inventories last week were up another 2.2 Mil Barrels to 485.5 Mil. Current US crude stocks are up 12% from early June a year ago.
Managed funds as of this morning are estimated to have been short a net 114,000 contracts, up 21,000 from last Tuesday and by far a record for mid-June. World oilseed fundamentals remain bearish without Chinese hog herd rebuilding, but unlike corn & wheat, the spec community has done little to cover a record short position in soybeans.
Funds today are estimated to be long a net 94,000 contracts of corn, up 7,000 on the week. Funds are short an estimated 15,000 contracts of Chicago wheat, vs. 24,000 contracts a week ago.
The midday GFS is wetter in Ukraine and Central Russia over the next two weeks. Heat and dryness will continue across key parts of Southern Russia, which is a major producer of both winter wheat and corn. But concern over Black Sea dryness will be easing on the margin if the forecast verifies.
World weather patterns, generally, are non-threatening outside the US Midwest. A steady flow of rain even impacts the driest areas of Australia moving forward.
EU milling wheat futures are beginning to disconnect from the US. Spot EU milling wheat looks to close down €1.00/MT.  
AgResource Midday GFS Weather Forecast Analysis: In the US the GFS is drier in the Midwest but wetter across the Delta and mid-South into June 27. Moderate to heavy showers impact the Midwest in the next 24 hours and again on the weekend. Totals of 1-2" are projected across IL, IN, OH and MI.
The storm path thereafter shifts southward, leaving the Plains and Midwest dry June 18-21. Below normal. Central US temps next week will be much closer to normal, with high reaching the 70s and l ow 80s. The 11-15 day forecast features a mix of rain and sun, but additional threats of flooding.
 10-Day GFS Precip: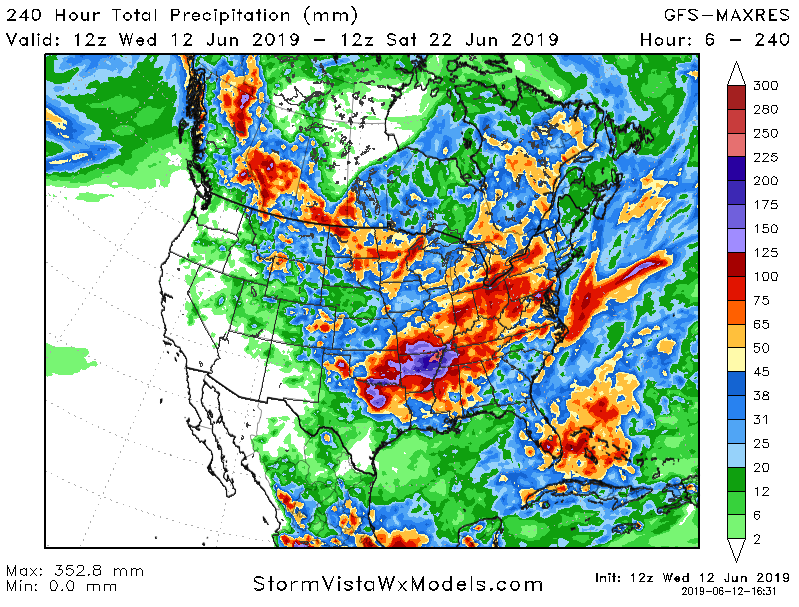 Change in 10-Day GFS Precip:
AgResource Market Comment: Uncertainty over US corn production will keep ag markets well supported on breaks into mid-June. However, world wheat and soybean balance sheets remain rather loose. Black Sea barley today is offered $26/MT under Gulf corn. A year ago barley was offered at a $25/MT premium to Gulf corn.