** AgResource Pre Opening Sunday Market Calls Are: Soybeans 2-4 cents lower, corn 1 cent lower to 1 higher with wheat called 1-3 cents higher.       
 ** Weekend Weather & Market Comment Discussion: Happy Father's Day! CBOT calls are mixed to lower to start the week as the CBOT awaits the next move from President Trump in the China/US trade spat.
 China applied 25% tariffs on a slew of US ag goods late Friday including US meats, dairy, soybeans and grains. The China retaliation was expected as the US had frequent warnings following it's own announcement of tariffs on the same day. And China's offer to buy another $70 Bil of US ag/energy goods is now off the table. US/China trade negotiations have restart from zero.
 China's tariffs targets Trump's base of support with their implementation to start (along with US tariffs) on July 6. China did leave the door open for fresh negotiations, but that will depend on next steps from the US President. The big question that everyone is pondering is whether the US will be able to bully China into taking steps on the US/China trade deficit/protection of IP with additional tariff threats, or that Friday's tariffs lead to productive negotiations? Our hope is the later since we doubt that China can be bullied into accepting US trade demands.
** June 1-30th % of Normal Rainfall: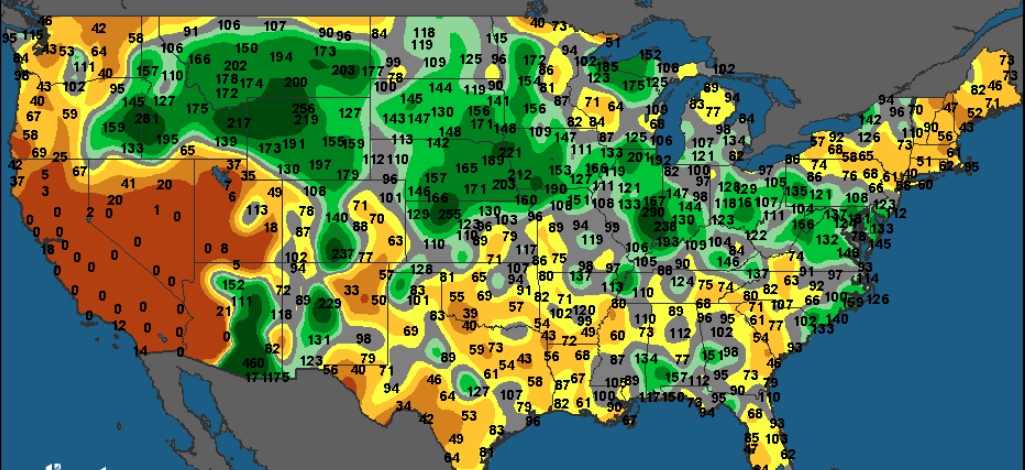 Friday's CoT report showed that the managed money is; long 15,000 Chi wheat (down 1,000), long 61,000 corn (down 53,000), long 13,000 soybeans (down 59,000), short 74,000 soyoil (up 16,000) and long 89,000 meal (down 12,000).
** Central US Weekend Weather Review: It was sultry weekend with Midwest high temps ranging from the mid 80s to the mid 90s, with a few 100's reported across KS/NE. The extreme heat added to stress and rapidly dropped soil moisture. Showers formed across the Upper Midwest from the Dakotas into Wisconsin. The heart of the Midwest endured limited precip/blazing sunshine. 
** Central US Weather Pattern Discussion: The US and EU weather models are in good agreement over a complex 7-10 day forecast. A tropical wave looks to make landfall across the southernmost tip of Texas mid-week with a stalled front producing showers/storms across the W and C Midwest on a near daily basis through Friday, with the rains pushing into the E Midwest next weekend. Combined weekly rain totals thru the heart of the Midwest look to range from 2-5.00" an isolated heavier.   Cooler temps will push southward from Canada this week with a boundary line setting up across the S Midwest. The mean Central US Ridge position is compressed south. The Delta, S Midwest and Canadian Prairies will see limited rains in the next 2 weeks. The extended range tries to amplify the Central US Ridge northward.
** Needed Rains for the Central US from a Stalled Front/ Dry for Canadian Prairies: 
** Drought Worsens in the Black Sea and E Australia: