Weekend Commodity Wrap Up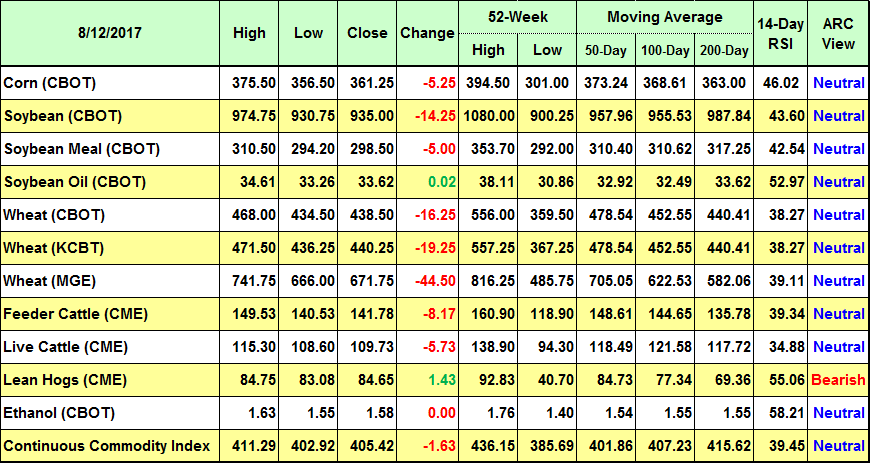 Commodity Index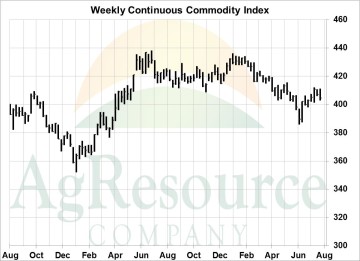 The CRB/CCI index finished lower as soft commodity prices declined including;  soybeans, corn, cattle, corn, sugar and wheat. Energy prices closed mixed while metal prices advanced on the heightened political tensions between the US and North Korea. The lower CRB close did not alter the technical uptrend, but another week of weakness cannot be tolerated without a retest of the early June lows. 
  Seasonally, the grain/soy markets should form their lows in August with an uptrend expected into early 2018. No lasting downtrends are expected in corn, soybeans and wheat until a second record South American soy/corn crop can be confirmed.
  Amid the favorable global economic outlook and there being no evidence of a decline in Chinese demand, ARC maintains a supportive view of raw material prices into early 2018.
Corn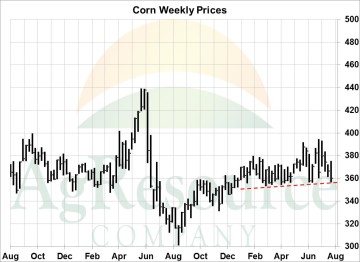 Dec corn fell 6 cents, which was entirely a function of NASS's bearish US yield surprise. Friday's trade was moderately higher, and there's a general consensus that NASS's first ear weight guess is too high, to a degree that is yet to be determined. ARC maintains a US corn yield of 166 Bu/acre, but there's evidence to suggest an even lower number by the Oct or Nov crop reports. We now simply await harvest data. Otherwise, S American exports continue to dominate world trade, but demand has rallied Brazilian and Argentine basis bids substantially. It's far too late to turn bearish S American cash prices The most probable scenario is that of an ongoing neutral corn market, and so far Dec corn has held major support at $3.70. There's some downside risk as harvest approaches, but we doubt Dec corn can trade much below $3.60 without confirmation of near record large US ear weights. Target an early autumn rally to $3.85-3.90 Dec to extend sales. Corn is caught in a range!   
Wheat
  Wheat futures again closed sharply lower on a bearish August world WASDE report and ongoing fund liquidation. Even as of early this week, managed funds were long a net 49,000 contracts in KC, which is historically large, and as Black Sea crops get bigger the last of these stubborn longs is getting out. An upward revision was fully expected to Black Sea production, but the USDA in its report this week raised combined Ukraine and Russian wheat production 7.5 MMTs, which no doubt exceeded expectations and also pushed major exporter stocks/use noticeably higher. However, it's not supply that will cap Russian exports but rather logistics. Last year's Russian shipments (31 MMTs) likely indicates an intermediate high until investment is made into infrastructure there, and with US Gulf wheat still the world's cheapest, ample export opportunities lie ahead. Crops in the US, Canada, Australia and Europe are still overstated, and we maintain that a very long term bottom was made almost exactly one year ago. The US market needs acres, EU cash prices continue to rally, and we don't advise any new sales here. Wheat should be forging seasonal lows.
Soybeans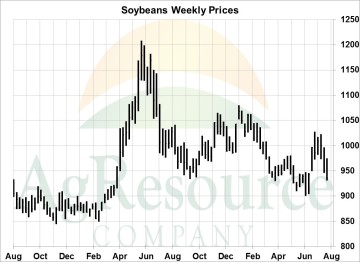 Soybeans were on both sides of unchanged through the week and finished lower. Short covering ahead of the USDA's August Crop Report offered support in the first half of the week, while a much larger than expected yield estimate sent the market sharply lower on Thrusday. The trade had been positioned for a US soybean yield around 47 BPA, or 1 lower from the July WASDE, while NASS estimated a yield of 49.4 BPA or 1.4 higher. Based on much weaker conditions and our own crop analyst assesments of Midwest fields, our view is that the August USDA yield estimate could be the highest of the year. Crop ratins are expected to be unchanged to 1% lower on Monday as cool temps in the last week have helped offset limited rainfall. However, much of the Midwest is in dire need of rain, while the weather models projected limited rains and building heat in the next 10 days. Beans are back to oversold, funds are flat, and the forecast is less than desireable. Farm selling is shut off, and we expect the market to stabilize ahead of the Pro Farmer Crop Tour.                    
Cattle
   Cattle futures were under liquidation pressure right from Monday's open, and selling continued throughout the week. Commodity fund traders started to unwind their cattle position in July and selling accelerated this week on slow beef demand and lower cash trade that was down $2 to 3 for the week at $115 to 116, or $8 to 9 over late week trade in October cattle. October cattle are oversold and well under the cash market. However, the outlook for cattle prices going into the last half of the year is more bearish following large spring and summer placements. The USDA once again raised their forecast for US beef production in the 4th quarter, which is expected to be record large. The CME is back under cash prices, but this time it's the CME leading the downward charge. A $4-6 rally should be used for late year sales and any bullishness is on hold until 2018.  
Hogs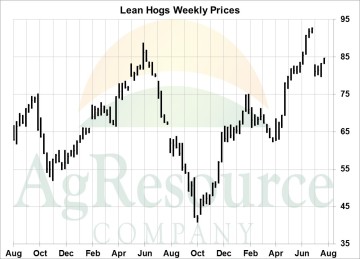 October hog futures were able to build on the previous week's technical strength and posted strong gains on Monday. However, the market spent the rest of the week consolidating those gains, trading back and forth in a narrow range. The cash market continues to work lower, and hog basis is narrowing, but more significant for the market was the sharp break in cash pork belly prices. The pork belly value has been the main driver of hog prices over the last several months, but after reaching a record high in late July, was as much as much as $18 under that high this week. Going forward, both slaughter rates and carcass weights will continue to increase rapidly through the early autumn months, and the USDA maintains record large 4th quarter pork production, which keep the hog market outlook bearish.