Commodity Index
  The CRB/CCI gapped and finished the week sharply lower at major support at 390.00. A close below this level this week will confirm a new downtrend in the CRB and that "deflation" maybe impacting commodity values as the world economy slows amid trade disputes and political uncertainty. The US dollar also declined during the week which is normally supportive to the CRB. The tug of a weakening world economic outlook cannot be disregarded.
 The US/Mexico avoided tariffs late Friday while US President Trump and Chinese President Xi will meet at the G20 meeting in Japan later this month.
  The US is asking China to adhere to and agree to prior negotiations which is doubtful. New talks will have to be agreed to, but its doubtful that Trump will ink a future watered-down agreement. This will cause President Trump to place an additional $300 Bil of tariffs on China at some point. This is why China is securing Brazilian soybeans well into November which reflects their confidence in a nearby deal. 
Corn
CBOT corn futures ended the week lower. July failed to build upon last week's rally as Central US weather becomes conducive to seeding. Demand is also being hurt as US Gulf corn premiums to South American origins reach  multi-year highs. And US ethanol production margins have fallen on the rally.
 And ample HRW supplies will compete for feed use across the Western Plains. It's noteworthy that Mexico booked Brazilian origin corn for autumn arrival. Mexico secured the corn based on cost, not the potential for US tariffs.
  A dynamic market is expected during June. There's little room in the US corn balance sheet for yield loss below 162 BPA. Yet, this supply-driven rally is not structural or lasting in nature. South American, Black Sea and even US are age will expand in 2020. A world demand driver is absent for a lasting rally.
Wheat
  US wheat futures ended highly mixed. KC fell 25 cents on near record high HRW crop ratings and the prospect for huge yields. Spring wheat contracts rallied 20 cents on expanding dryness across Canadian Prairies.  
  Weather concerns could offer support in the near term, but amid an EU wheat crop that is 15-17 MMTs larger, and a Australian crop that is 20-22 MMTs, the losses in Canada and Russia are unlikely to be large enough to unleash lasting bullish trends. And the 10-15-day weather models offer hints of rain for the drier areas of W Russia and Canada. Whether today's wetter forecast is correct will be closely monitored on Monday.
 The US Gulf premium to EU/Black Sea origins have widened to $15-20/MT. Such premiums will slow future export US demand.
  It's difficult to pull 19/20 US wheat end stocks much below 1,000 Mil Bu. NASS will raise total US winter wheat production in its June report Tuesday. US/ world wheat is oversupplied.
Soybeans
  CBOT soybean futures rallied to test long term resistance and then the market failed. Concern over excessive US rain and near record slow planting progress is waning as Central US weather improves. And, the fundamental outlook is turning more bearish as US-China tension are deepening. The pace of US soybean export shipments continues to lag the USDA's forecast. Another 50-75 Mil Bu reduction in 18/19 US soybean exports is anticipated on Tuesday. Without acreage and yield losses, 2019/20 US soy end stocks will above 1,000 Mil Bu. This suggests the market needs to find demand, not discourage it. US farmers are expected to seed additional US soybean acres as they switch acres from corn. The outlook for CME soy is bearish and only a dire 2019 drought can change that outlook.  
Cattle
   Cattle futures were under pressure right from the open on Monday, with June cattle falling to new lows, and then consolidating those losses through the rest of the week. Fundamentally, US Cattle on Feed supplies are known to be record large, and this fact will hang over beef prices. And the weakness in beef has put a cap on slaughter margins and weighed on recent cash cattle trade.
 Technically, spot cattle futures have fallen back to the lowest level since August as funds continue to unwind a massive net long cattle position. June cattle futures end the week near $107, with long term support stretching back over the last 2 years noted under $105.
  In the near term, the cattle outlook is neutral: price is at fair value, but with large beef supplies ahead, the market does have a strong reason to rally. ARC research calls for broad range trade for a few weeks. Buy August below $102.00.
Hogs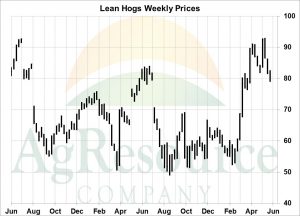 Hog futures marked another lower week of trade, with the nearby June contract falling back under $80. This left spot CME futures at the lowest level since the April expiration. Fundamentally, the US hog supply remains record large, and to date there has not been a significant increase in export demand that is needed to offset the years of industry expansion.
 Moreover, the 1st quarter rally to multi year highs, likely discouraged any plans to reduce sow breeding/ farrowing rates.
  The cash market marked the 3rd consecutive down week, which is likely confirming a seasonal top. Technically, June hogs have nearly retraced all the 1st quarter rally, while July hogs ended the week back under the 200-day moving average. Optimism for large Chinese demand is diminishing, and record supply is now driving cash and futures prices.
 Whether the US can get China back to the trade negotiation table in late June will be the next key market driver?