Need Help?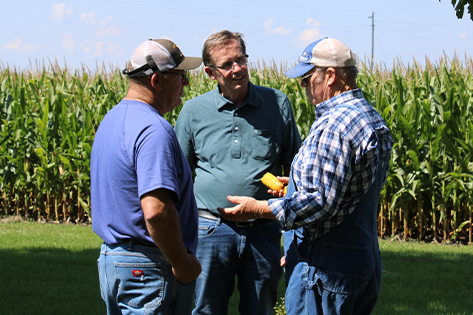 AgResource Company was founded in 1987 by economist Dan Basse. Today, AgResource serves clients throughout all walks of agribusiness across the globe. With more than 150 years of worldwide agricultural marketing experience, our team is here to assist you in maximizing your profit by managing risk. While our headquarters is located in Chicago, Illinois, we also have offices in Brazil, South America and Geneva, Switzerland. AgResource Brasil and AgResource Europe are vital to our understanding of international agriculture markets. As markets become more volatile and complex it is our goal to act as your trusted partner in market risk management.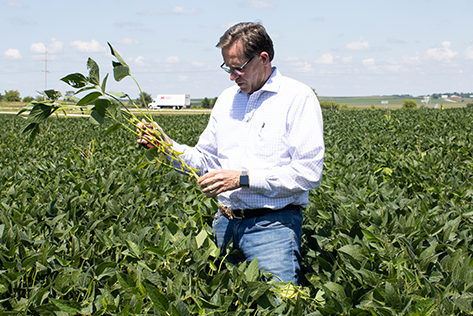 Unlike many other risk management and advisory services, AgResource Company is not a brokerage or trading firm. It is our job to provide you with the most accurate, real-time analysis possible so that you can make the most profitable market decisions for your operation. In doing so, we serve as your research partner, leaving the decisions where they belong – with you! Our services include a range of online newsletter memberships and personalized consulting services. Each of our products is designed with the success of you and your operation as our top priority. Like we have for over 30 years, AgResource Company is proud to serve you in navigating violatile agricultural markets.
meet our team
With over 150 years of experience, our analyst team is ready to serve you around the globe. We also have a skilled team to support your sales and technological questions.
United States

DAN BASSE

PRESIDENT

Economist Dan Basse has been in the commodity business since 1979, providing research and insight around the globe. His counsel is sought out in 81 nations - by farmers, elevators, processors, millers, food companies, trading companies, importers, exporters, meat packers, and more. Mr. Basse was raised on a dairy/grain farm in waukesha, Wisconsin and graduated from the University of Wisconsin, Madison in 1979. Dan has worked with Professional Farmers of America, Brock Associates and the agricultural research division of GNP Commodities in Chicago. In 1987, Mr. Basse founded AgResource Company to serve the needs of the United States and world agriculture community. Mr. Basse is a member of Farm Foundation and the Commodity Market Council.

DR. BILL TIERNEY

PHD | CHIEF ECONOMIST

Dr. Tierney has been Chief Economist for AgResource Company since joining the firm in October 2011. He has over 32 years of experience working as a leading agricultural economist, primarily as a global crop market analyst. Bill's previous positions include USDA's Principal Grains Economist; Professor in the Deparment of Ag Economics at Kansas State University; Exec. VP for Research serving mostly US ethanol plants; Head of North American Research for LML International; Senior Analys for Black River Asset Management (a commodity hedge fund operated by Cargill; General Manager of Doane Advisory Services; Senior agricultural advisor in Iraq while working for the US government. Bill is a graduate of Michigan State Univeristy and the University of Missouri. Bill is married and has three adult children.

BEN BUCKNER

DAIRY & GRAIN ANALYST

Grains and dairy analyst Ben Buckner has been with AgResource since 2008. Ben specializes in grains market research, and has been in commodity markets analysis since 2005. He began his career with the research department at the Iowa Grain Company in 2007. Ben hails from from Nashvile, Tennessee. He graduated from Transylvania University in Lexington, Kentucky with a degree in economics.

NATHAN LOSEY

LIVESTOCK & GRAIN ANALYST

Nathan Losey, grain and livestock analyst, grew up on a family-operated hog and grain farm in North Central Illinois. After college, he spent several years working on his family's farrow-to-finish hog operation. Nathan joined the AgResource Company analyst team in 2005. Nathan is a graduate from Western Illinois University where he received a bachelor's degree in agriculture business and a master's degree in economics.

BRANDON STICKLER

DIRECTOR | SALES & MARKETING

Brandon Stickler, director of sales and marketing, joined the AgResource Company team in 2021. He is originally from Pleasant Plains, Illinois where he grew up raising and showing livestock across the country with his family. Brandon is here to assist AgResource clients with all sales and account questions.

South America

Raphael Mandarino

Brazil Director

Raphael A. Mandarino is the General Director of AgResource Brasil, a branch of the North American company AgResource Company, headquartered in Chicago, in the United States. He started at AgResource Brasil in 2020. He has been working with technical and economic viability of rural projects and consulting for more than 10 years for agribusiness. He was professor of Undergraduate and Postgraduate courses at UPIS / DF colleges. He is a rural producer, graduated in Agronomy from the University of Brasília, and PhD in Animal Sciences from the Federal University of Minas Gerais, with a research focus on crop-livestock-forestry integration, sustainability and systems intensification.

Daniel Xavier

IT Director

Daniel Reis is the director of technology for AgResource Company and Brazil. He started at AgResource at the end of 2021 and works with management, coordination and development of projects and systems for the company's infrastructure. He was already coordinator of communication and technology for the Parliamentary Front for Agriculture and the Brazilian Association of Soy Producers in Brazil. He has experience with integration of agricultural projects and information technology. He holds a degree in Information Security and a postgraduate degree in Communication and Digital Marketing.
contact us today
OUR CUSTOMER SERVICE AND SALES TEAM are HERE TO ANSWER ALL OF YOUR QUESTIONS. A REPRESENTATIVE WILL RESPOND TO YOUR CONTACT SUBMISSION.
Contact
submission