Soybeans Recoup September Crop Report Losses
Sep 13, 3:34 pm
|
Soybeans
|
Share this: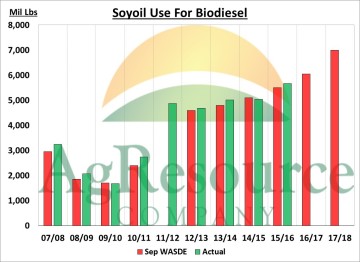 Soybeans traded higher overnight, and extended gains through midweek trade. The market broke at the report release on Tuesday on a larger than expected yield/crop size, but further review of the USDA's assumption of a record heavy pod weight has cast doubt on September estimates. At the close November soybeans were 10 cents higher and back above the 100 day moving average, with commodity fund traders estimated buyers of 5,000 soybean and 3,000 soymeal, and sold 1,000 in soyoil.
  Crop size and yields were the key numbers in Tuesday's WASDE report, though the USDA also made significant changes to the soyoil estimates. Following the Commerce Dept's ruling against Argentine and Indonesian biodiesel imports, the USDA raised their estimate of 2016/17 soyoil for biodiesel demand by 50 Mil Lbs to a record large 6,050 Mil Lbs. Soyoil demand for biodiesel in 2017/18 was increased by 1,050 Mil Lbs from the August estimate to a 7,000 Mil Lbs. This means that 31% of US soyoil production will be used for biodiesel versus 28% in 2016/17.
  Our view for the soybean market stays bullish, as we look for a US soybean yield closer to 47 BPA, while we expect Chinese demand to develop on corrections ahead of harvest.