New Crop Brazilian Corn Supply & Demand
Sep 8, 4:45 pm
|
Corn
|
Share this:
South America will no doubt be a major player in the world corn market for years to come, but ARC highlights some fairly major changes in Brazil's corn market over the last 12 months. We've often discussed how changing currency relationships will be very important longer term should prevailing trends continue, and there's more evidence that farmgate prices are at/below the cost of production in more countries than just the US. CBOT futures since 2015 have worked to curtail world acreage, and currencies are exacerbating this, and so there's no longer much incentive to expand cropped area in South America, Russia and Europe. Brazilian cash prices range from $1.70/Bu in Mato Grosso to $3.20 in far S Brazil. Prices in Parana, a major producer of both winter and summer corn, are at left. Current quotes there rest at two-year lows, which no doubt will limit seeding expansion.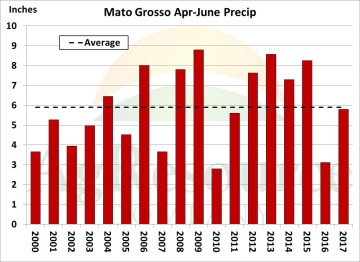 ARC's work suggests there's been a decent correlation between farmgate prices and planted acreage. Total acreage contracted slightly in 2014 as prices fell to 300 reais/MT. Acreage was unchanged in 2015. Acreage expanded an incredible 10% in 2016 as corn market there went to record highs. Current prices indicated total Brazilian corn area in 2017 will be steady to lower, and already CONAB has suggested first-crop area will be down slightly.
  We also mention safrinha corn, which pollinates in May-Jun, now accounts for 70% of Brazil's total crop. The graphic at left shows rainfall in Mato Grosso during this period, and while normal weather is assumed, moisture there can vary widely. The wet season typically ends in April, but in recent years it's been much wetter than normal. 
The point is that droughts like that seen in 2016 are not that uncommon, and average precip in Northern Brazil during Apr-June is a function of either very wet years or very dry years as evidenced in the preceding graphic.
  ARC pegs total new crop corn harvested areas in Brazil at 17.4 Mil Hectares, down slightly from last year as well as the USDA's forecast. Assuming trend yield, production is estimated at 92.9 MMTs. Assuming normal domestic consumption growth, exports will be capped at 32.0-32.5 MMTs, which is still very large, but reflects reduced Brazilian market share moving forward without a repeat of wet weather in May and June next year. The world has become quite dependent on Brazil's safrinha crop, and we simply wish to point out risks associated with producing corn in what is essentially a tropical location. Further strength in Brazil's real also needs close watching.