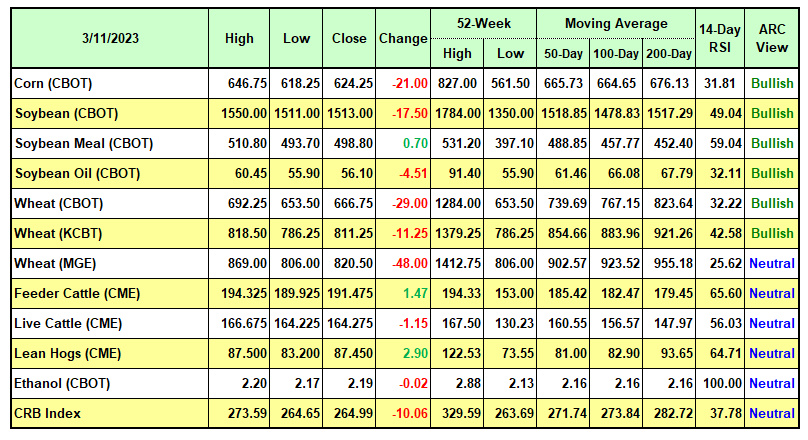 CRB Index
The CRB fell sharply this week as Chairman Powell warned that US interest rates would go higher for longer as a US Bank – Silicon Valley Bank – was taken over by regulators. The bank's rapid collapse via a run-on liquidity by its customers, showed the fragility of segments of the US economy when the cost of doing business is misjudged.
The CRB fell back to key support (the red trendline) that is drawn on the chart. Whether a Wall Street Bank absorbs the Silicon Valley Bank and Tuesday's CPI report will determine CRB values in the week ahead. ARC looks for the US Central Bank to raise its lending rate to 5-5.25% on Wednesday, an increase of .5%. The US Central Bank must step up its war against inflation.
Strong US labor markets are the undercurrent that maintained demand for raw materials. With homeowners unlikely to sell properties with 30 years of low mortgages, buyers will have to look to new homes to purchase. The building boom elevates commodity prices thru growing new demand.
Due to the return of rising commodity valuations, the US Central Bank will become more aggressive in raising rates to combat inflation. The Fed's hammer of raising rates is to harm demand. Yet, the world needs a greater supply of goods.
Corn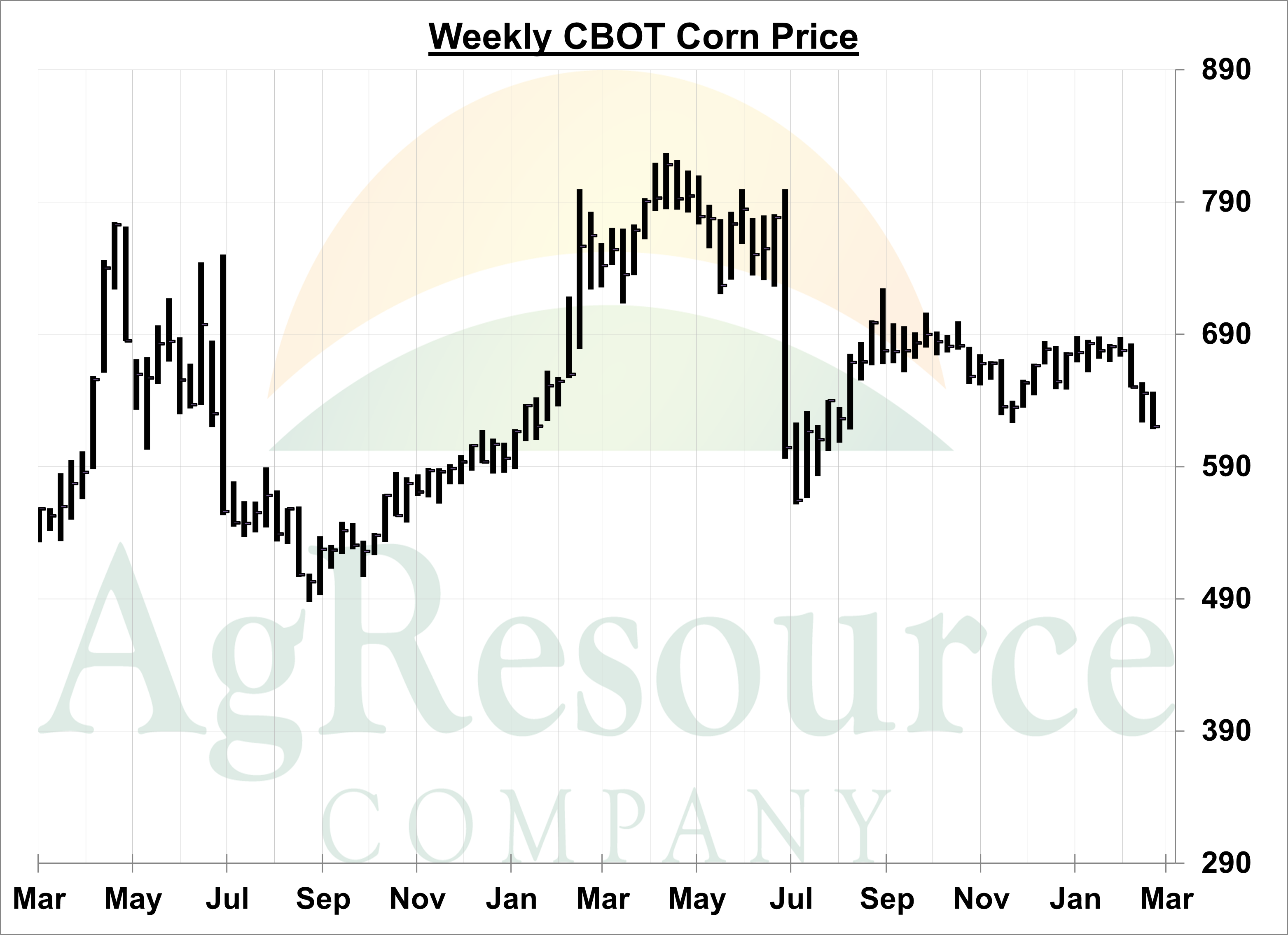 May CBOT corn fell to a new post-harvest low amid collapsing global wheat prices and as chart patterns stay bearish. Fundamental input this week leaned positive, and ARC is shedding previous bearish sentiment as Argentina yield losses crosses a threshold seen only a few times in history. Late season dryness and extreme heat is expected to lower final production to 33-36 MMTs, vs. USDA's projected 40 and vs. 51 MMTs last year. Exports will be no larger than 26 MMTs vs. 39 last year and could be as low as 20 MMTs. This will support US corn demand into the summer. Additionally, global corn stocks will not be building in 22/23, which raises the burden considerably on Midwest weather between April and August.
The break in the market has quickly bolstered US export demand. South American surpluses will be absent until July. And questions over US planted area and Ukrainian production cannot be answered today. It's premature to count on record US yields. Rallies will be sold, but ARC's upside target remains $5.90-6.20 Dec '23 corn. Wet weather across the Delta/Southeast where seeding occurs from mid-March to early April, must be closely monitored.
Wheat
Spot CBOT wheat fell to the lowest level since July 2021 on accelerated fund selling. The market's inability to hold $7.00 support accelerated long liquidation and the establishment of new short positions. A fundamental catalyst for sub-$6.50 wheat is lacking and cash sales are not recommended at current prices. Rather, end users are advised to lock in Mar-Jun wheat/flour supplies at the market. There is little/no weather or Black Sea conflict premium built into current prices. An important growing season is forming. And, importantly, Russia's cash market has not followed the break in EU and US markets. Wheat in Eastern Europe is the world's cheapest milling origin wheat. Additionally, wheat's premium to corn worldwide is abnormally low. And ARC estimates managed funds' short position in Chicago at an excessive 110,000 contracts. A larger short hasn't been seen since autumn 2018 – when the market was clearly oversupplied. The US wheat market today is undervalued and prone to sharp short covering rallies.
Soybeans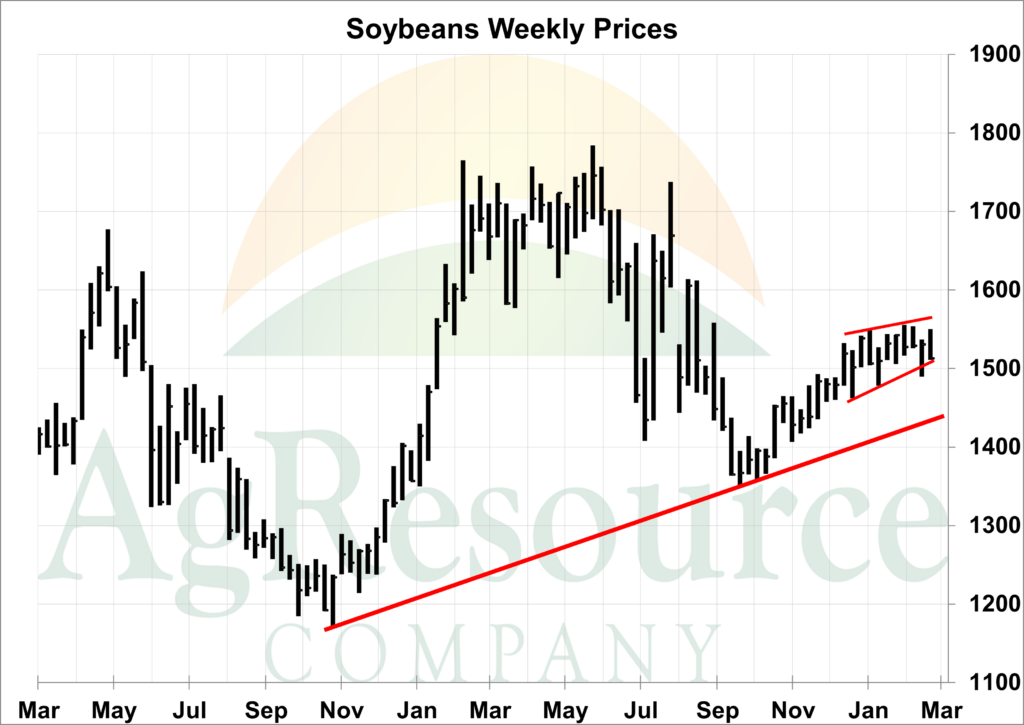 Soybean futures traded on both sides of unchanged through the week and finished slightly lower. The March WASDE report was viewed as supportive as the USDA raised its annual crush forecast by 25 Mil BU and lowered the end stock forecast to fall by 15 Mil Bu to 210 Mil Bu. If realized, this would be the lowest US soybean stocks figure in seven years.
In the global estimates, the USDA cut its forecast for Argentine soybean production by 8 MMTs to 33 MMTs, which puts total USDA cuts at 12 MMTs since January. After the USDA report, the Rosario Grain Exchange lowered its estimate for the Argentine crop to 27 MMTs, down from the previous estimate of 34.5 MMTs. The sharp reduction in the Argentine crop size can no longer be dismissed or ignored. CBOT soybean prices are expected to find support on breaks back to or below $15.00, while a weekly close above $15.60 will signal a longer-term technical breakout. May soybeans are likely to score new contract highs and could rise to $16-16.50 for a seasonal top in early summer.
Cattle
Cattle futures marked new contract highs and then turned lower last week with nearby cattle futures marking only the 2nd weekly decline of the year. Cash trade again held until late in the week, with initial live sales in the Southern Plains quoted steady for the week at $165. Boxed beef values relaxed and were lower during the week but are still well above a year ago and at record prices for early March. The bull market in cattle is nearing 3 years old, with cash and futures prices now within $5-7 of all-time highs, and yet, falling feeder cattle supplies suggest that the longer-term outlook stays bullish for at least another 2-4 years until the beef cow herd is restocked. Beef cow herd liquidation has ended, which is reducing US beef production and supplies. This will further support US beef prices in the coming months.
A short-term correction is underway at the CME, with long-term support in June cattle expected at $154-156.
Hogs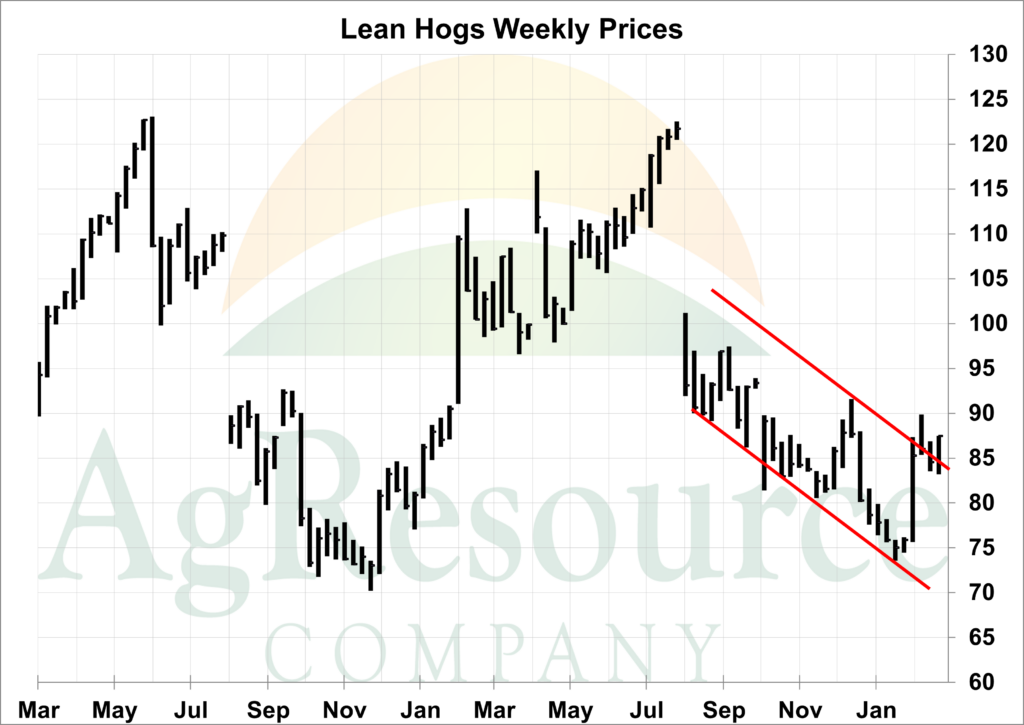 Hog futures finished the week higher, with key support uncovered below $84 on rising cash hog prices, while June hogs repeatedly found support at $100. Cash hog prices were higher through the week, while key fundamental reports were mixed. The March International Trade report showed that US pork exports in January were up 9% year-over-year at 556 Mil Lbs, with stronger exports to Mexico, China, and Caribbean countries. The March WASDE report lowered quarterly average hog price forecasts, with the 2nd quarter forecast lowered $1 to $70 live or a $95 lean equivalent. CME hog futures for the 2nd quarter are aligned with the USDA forecast, which should continue to support June hogs at $100.
The latest CoT data showed that funds have covered their net short hog position and have turned bullish. The late-week rally likely confirms that a secondary seasonal low is in place. The CME outlook is bullish on breaks as the cash market moves higher.