Charts of the day: 30-day dry period followed by a wetter 10-day forecast.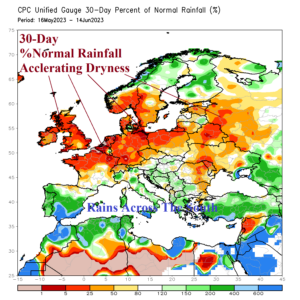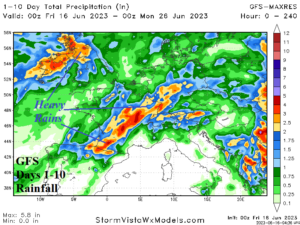 Discussion: The 30-day percent of normal rainfall pattern across Europe and into Western Russia identifies a dry and mostly warmer than normal regime raising drought concerns for U.K./Ireland to Central Europe and the Baltic States for upcoming summer. However, short-term forecasts indicate heavy rain appears in the British Isles plus France to South-central Europe over the next 10 days.
Week-2 Ahead Forecast valid June 26-July 3, 2023: Western Europe heat.
Discussion: Upper ridge is centered on U.K. but less amplified than much of the past 30 days. Trough position remains stretched across the Black Sea region. Western Europe is hot while Southeast Europe is rain cooled.
Week-3 Ahead Forecast valid July 3-10, 2023: Below average forecast confidence on shift of upper ridge to east of Italy.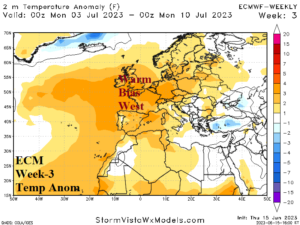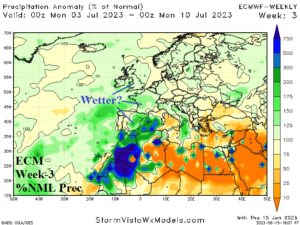 Discussion: A low confidence pattern change is projected by ECM. The model forces a trough toward Ireland causing a wet pattern change for France and vicinity. The model is likely too warm given this scenario for Western Europe. The upper ridge shifts to just east of Italy to warm and dry-out Southeast Europe.
Week-4 Ahead Forecast valid July 10-17, 2023: Moderate warmth and some beneficial rainfall.
Discussion: ECM wipes-out any significant ridge into mid-July which is a major change from most forecasts issued previously for this time of mid-summer. The sensible forecast indicates needed rainfall for West/South Europe while the Central Europe dry soil areas have limited rain.